Ultimas noticias de EarMaster ApS
New Chinese distributor and website - March 12, 2018
EarMaster and C&J Marketing are joining forces to introduce EarMaster to Chinese musicians and music schools. Besides offering a local website, local support and active promotion of EarMaster products, C&J Marketing are also distributing the software via their network of resellers.
Here is the official statement:
EarMaster ApS, the developer of EarMaster—The easy, motivating and efficient software to become a better musician, are proud to announce that they have signed an exclusive distribution agreement with C&J Marketing Software Co., Ltd.

China is currently the fastest growing market in the world. The agreement, which goes into effect immediately, allows C&J Marketing Software Co, Ltd. to take an active role in growing sales for EarMaster in China through distribution and marketing in the Chinese market.

"We are very happy to partner up with C&J Marketing Software. They are a growing software distributor focused on the Mac platform in China, and have already proven to be a solid asset to EarMaster's growing presence in China. This is exactly the type of relationship we look to develop. C&J Marketing Software is focused on providing customer service, customer support, and offers a local interlocutor for our customers in China", mentions President Hans Jakobsen. "This business relationship will make it possible to increase EarMaster's sales in China in the coming years, and help it become a staple on the computers of Chinese musicians."
EarMaster nominado a NAMM TEC AWARDS 2017 -22 de diciembre de 2016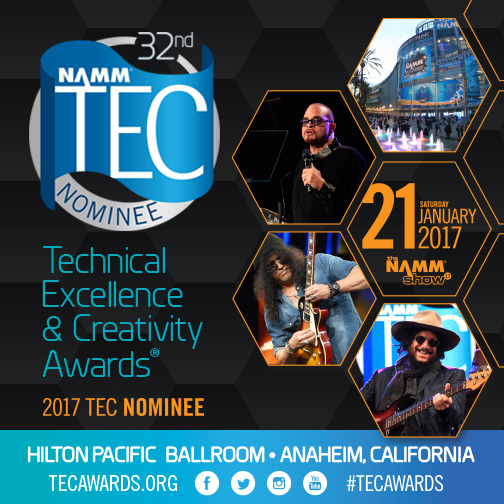 EarMaster ha sido nominado por la industria de la música para el 32º NAMM TEC Awards en la categoria Mejor Herramienta Educativa de Audio
Este es un gran honor para nuestra compañía, y estamos muy contentos de ver que nuestro trabajo continuo en EarMaster ha puesto el entrenamiento del oído en el centro de atención.
The NAMM TEC Awards son los "premios Oscars" de la industria de grabación de sonido y sonido profesional. Es donde se reconocen los productos más sobresalientes en el mundo de la música, las actuaciones en vivo, los videojuegos, la televisión y las películas, y donde las luminarias creativas como Les Paul, Quincy Jones, Pete Townshend y Stevie Wonder son reconocidos por sus contribuciones musicales. (Citado del sitio web de TEC Awards)
Gracias a todos por su apoyo continuo. Ahora esperemos que EarMaster llevará el premio TEC a casa el 21 de enero de 2017 en el el show de NAMM!
Mas info sobre TEC: https://www.tecawards.org/
Nuevo video tutorial para los profesores de música - 05 de mayo 2014
Un nuevo video tutorial ya está disponible. Explica en detalle cómo crear ejercicios con EarMaster Cloud y asignarlos a clases de estudiantes..
El tutorial también cubre la carga automática de los resultados de los estudiantes en la ventana de resumen de resultados de los alumnos de EarMaster, así como el sistema que pone en cola múltiples tareas asignadas a los usuarios.
Este nuevo tutorial sigue un primer episodio donde explicamos cómo configurar fácilmente una cuenta de EarMaster Cloud y cargar listas de estudiantes.
Para ver el video, por favor haga clic aquí
Para leer más acerca de cómo EarMaster puede ser integrado en su flujo diaria de trabajo de enseñanza, por favor visite nuestro página EarMaster para uso educativo .
Manual en espanol disponible ahora -24-de-abril-2014
La documentación completa de EarMaster 6.1 ya está disponible en español en una nueva actualización gratuita!. Al obtener el archivo de ayuda completo en español, simplemente actualice EarMaster 6.1 (edición Pro o Teacher) a la última versión.
Normalmente, una invitación para descargar la última actualización se muestra en EarMaster cuando inicia, pero si no la aparece simplemente vaya al menú Ayuda de EarMaster, y haga clic en "Buscar actualizaciones ...".
EarMaster en la Conferencia SEMPRE en Londres - 07 de abril 2014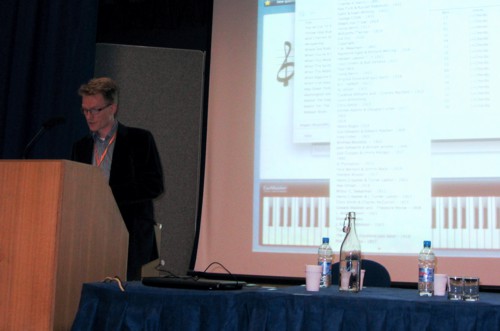 Acabamos de regresar de la conferencia de 2014 SEMPRE que tuvo lugar en la Universidad de Londres, Reino Unido.
La conferencia SEMPRE es un evento anual donde se reúnen los principales investigadores y representantes en el campo de la tecnología musical .
Hans Jakobsen hizo una presentación completa de las características educativas de EarMaster 6 para una sala llena, incluyendo EarMaster Cloud, la nueva base de datos de la melodía con importación de MusicXML, la herramienta de administración de los estudiantes y clases y más. A juzgar por la respuesta entusiasta que nos dieron después de la sesión, parece que EarMaster es un verdadero éxito en Londres!
Nos gustaría agradecer a nuestro amigo y colega el Dr. Evangelos Himonides por su amable invitación y una impecable organización de la conferencia. Nos vemos el próximo año!

Todas las versiones educativas disponibles - 02 de enero 2014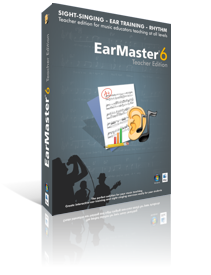 Por último, todos están aquí! La gama de productos completa de versiones educativas se ha actualizado a la versión 6. Las nuevas versiones educativos incluyen:
EarMaster 6 edición Teacher - Para los profesores de música. Incluye un editor de curso y las herramientas de informes.
EarMaster 6 Lab Packs - Licencia de uso múltiple para las escuelas de música. Incluye EarMaster Pro 6 y EarMaster Teacher 6. Compatible con la red local.
EarMaster Cloud - Una nueva solución de cloud para las escuelas, incluidas las licencias de EarMaster Pro 6 y EarMaster Teacher 6, tanto para uso en el hogar y el uso de la escuela. EarMaster sincroniza todas las tareas, los resultados y las licencias de forma automática a través de Internet.
Para más detalles sobre las nuevas versiones educativas de EarMaster, por favor visite: EarMaster para uso educativo
EarMaster is one of Denmark's fastest-growing companies - January 7, 2013

EarMaster has been awarded the Gazelle prize two years in a row by Danish financial newspaper Børsen for being one of Denmark's fastest-growing companies i 2011 and 2012.
What this means for EarMaster users is that they are in good hands! We know what we do, and we do our best to do it well. EarMaster is on the way up, and all signs seem to lead to great new releases in the future. So stay tuned, and remember to train your ear!
EarMaster available at Berklee College of Music - August 2, 2012
We just returned from Berklee College of Music in Boston, MA where EarMaster was presented by managing director and creator of the EarMaster software Hans L. Jakobsen.
Starting from this semester, all students enrolled at Berklee will be able to sharpen their aural skills freely - and efficiently! - with EarMaster at the Learning Center. Needless to say, we are delighted to support the ear training of thousands of students from all continents at such a leading institution as Berklee.
We would like to thank the staff of Berklee, and particularly Allan Chase (Chairman of the ear training faculty) and Pablo Vargas (Director of Learning Support Services), for their kind invitation and warm welcome. Other training sessions should be available already during the Fall semester. For more info, please visit: http://learningcenter.berklee.edu/Training_Sessions/Classes_Offered/classes/Ear_Training.
About Berklee College of Music (quoted from Berklee's website):

Berklee College of Music was founded on the revolutionary principle that the best way to prepare students for careers in music is through the study and practice of contemporary music. For more than half a century, the college has evolved to reflect the state of the art of music and the music business. With more than a dozen performance and nonperformance majors, a diverse and talented student body representing more than 70 countries, and a music industry "who's who" of alumni, Berklee is the world's premier learning lab for the music of today-and tomorrow.