EarMaster Cloud Support
EarMaster Cloud is a complete solution for music schools which includes user licenses for home and school use, cloud syncing of assignments, settings and results, free updates, and more. More info >>
Account setup

Connect EarMaster to the Cloud

User Credentials Recovery

Upload a student list

Reviewing student results
EarMaster Cloud Account Setup (for the administrator)
EarMaster Cloud is comprised of 2 separate areas:
The administrative website at https://cloud.earmaster.com: this is where the administrator of the account of a school manages users, credits and classes.

The EarMaster application for Windows, Mac and iPad, which is where the actual ear training is done. Students and teachers connect the app to the EarMaster Cloud account of their school using their personal EarMaster Cloud user credentials. As soon as the app is connected, it will fetch class and course data from the cloud, and upload all results automatically as the students complete their assignments.
How to proceed
1. Go to https://cloud.earmaster.com and log in with your administrator login, which was sent to you by e-mail and consists of:
- School account ID
- Password
If you haven't created an account yet, click on Sign up and create a school account using the serial number that was delivered to you when you purchased your EarMaster Cloud credits.
2. The first thing you see when you have logged in is the Dashboard. It will display information on how many credits are available for your account, how many users and classes are active, etc.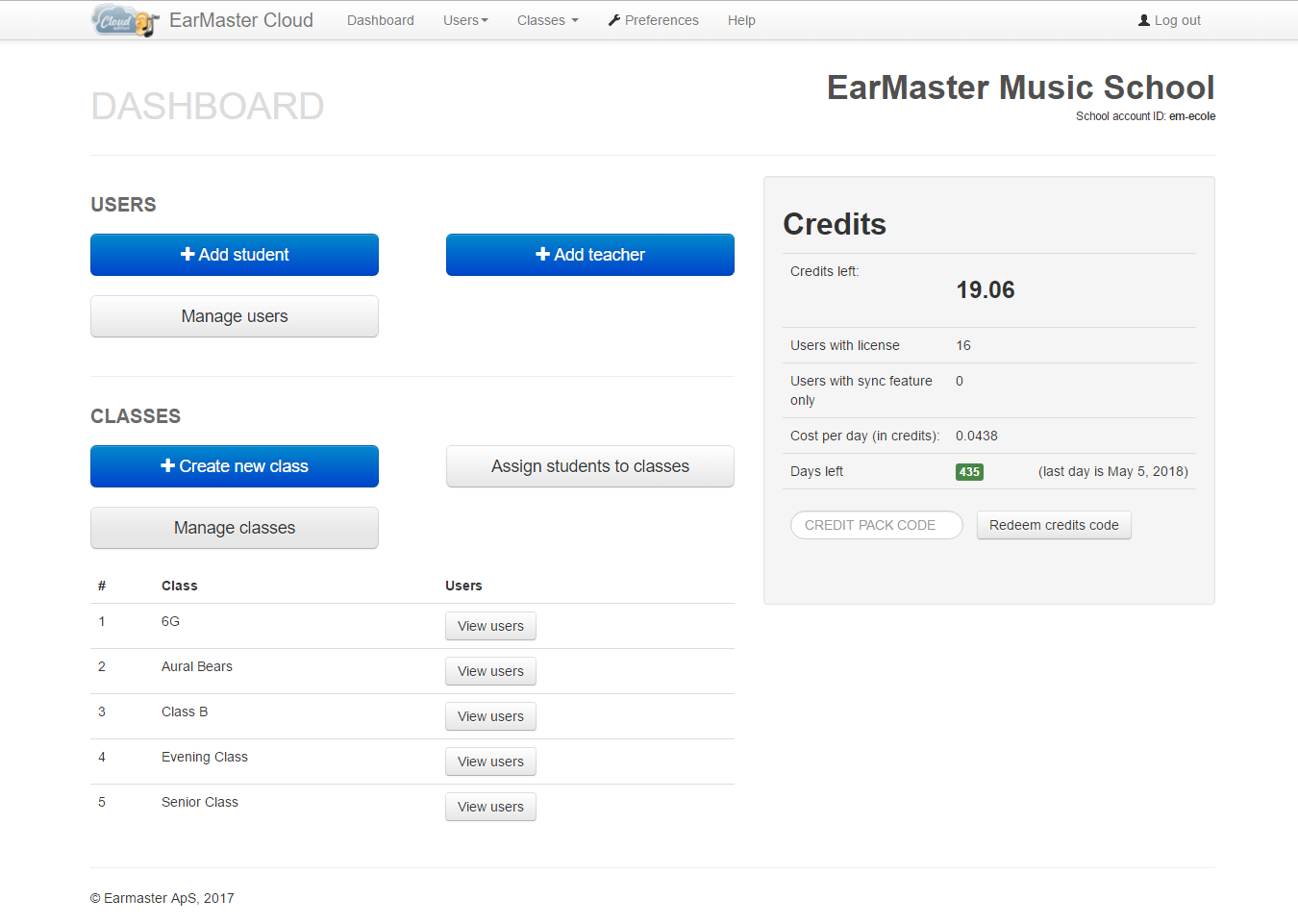 3. [Optional] Click on Manage Classes and create Classes (groups of students that will work on the same assignments). This step is optional, but even with only a few students, it will make it much easier to assign courses later on.
4. Click on Manage Users to manage the users of the account of your school:
Add new students or teachers by using the corresponding buttons at the top right of the page. If you want to use the PC/Mac software or iPad app, then you will need to create a teacher account for yourself. All the users you add will receive automatically an email with a download link and their user credentials. So make sure that your students are aware that they will receive an email from EarMaster Cloud before adding them, otherwise they might delete the email or oversee it.
If users have forgotten or lost their user credentials, you can resend them by using the Resend email function.
You can also delete the users that shouldn't be active any longer by checking boxes in the left column, and then clicking on the Delete button:
5. [Optional] If you have created classes, you can now dispatch your students to them using the Assign students to class button from the Dashboard.
6. Users have received their user credentials, so now they can connect the software or the app to EarMaster Cloud (read the tab Connect EarMaster to the Cloud)
7. If you have a Teacher account, you will have access to a special section in the PC/Mac software (not available on iPad yet):
Start by creating an assignment (called a "Course" in EarMaster) using the Course editor.
Save your course, then go to Class Administration and assign your course to a class. There can only be ONE course assigned to a class at a time (i.e. it is not possible to queue multiple course files), but students will be allowed to finish the course previously assigned to them. When they are ready to move on to the course that is currently being assigned to them, they can click on the envelope-shaped icon displayed in the home screen of EarMaster next to their current assignment.

Here's a VIDEO TUTORIAL that shows how courses are created and assigned: https://youtu.be/VEO7oNY8ftM


How to connect EarMaster to the Cloud
Connect and sync the EarMaster application on Windows, OS X and iOS with the EarMaster Cloud account of your school.
How to proceed
An email containing your EarMaster Cloud user credentials was sent to you when your teacher create your account. You will need these credentials to connect and sync EarMaster on your Mac or PC with the EarMaster Cloud account of your school.
Your EarMaster Cloud credentials consist of:
The school ID of your school
Your user name
Your password
iPad
Download the free EarMaster App from the App Store
Tap the cloud-shaped icon at the top left of the screen, type your EarMaster Cloud user credentials and tap "Log in".
PC/Mac
Download EarMaster for PC or Mac OS X using the download link located in the email you received from EarMaster Cloud.
When starting EarMaster for the first time, it ask you to activate it. If you are going to be the only EarMaster Cloud user on the computer, read the Only one user on the computer. if you intend to use the PC/Mac version with several EarMaster Cloud users/logins, then read the Multiple users on the same computer section further down
Only one user on the computer
Unless multiple Cloud users will be logging in on your computer, you can choose the option "Activate with a Cloud account" and fill out the fields with your EarMaster Cloud credentials.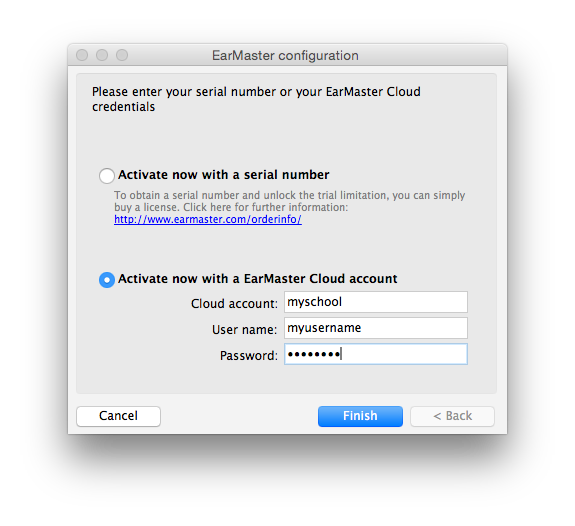 If the license activation window didn't show up automatically, or if you already have a EarMaster Pro or Teacher license, then simply go to the FILE menu, Click on USER PROPERTIES, and go to the CLOUD SYNC tab. Fill out your Cloud credentials, click on "Check account" to make sure you typed everything correctly. Finally check the "Enable Cloud sync" box at the top left to activate the software: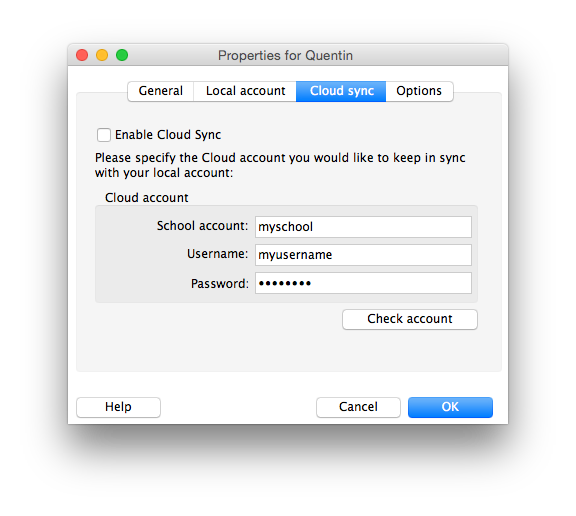 Multiple users on the same computer
If multiple EarMaster Cloud users are to log in on the same computer using different accounts, you need to activate the Direct Cloud login option available in File-->EarMaster Login... (or Tools-->System Administration Settings in EarMaster Lab Pack). Optionally, you can fill out the School ID of your school's EarMaster Cloud account in the field below the option so that users won't have to type the school account ID each time they need to log in.
Attention You should never use the File-->User Properties-->Cloud Sync option (described in previous tutorial) to log in with multiple user accounts, as it is linked to your local EarMaster user files. Doing so will mix up all personal EarMaster data (results, settings, preferences, and more).
EarMaster Cloud login recovery
Lost your EarMaster Cloud credentials? Get new ones here
Please type the email used with your EarMaster Cloud user account and click on "Reset" in order to generate a new password and receive your EarMaster Cloud user credentials by email.
Upload a student list (for advanced users)
EarMaster Cloud user list uploads can contain either students or teachers, can be uploaded as .csv files or directly from a browser, and can work as master lists or single-use additive lists. You can combine the options available to match your needs.
To upload a user list, go to https://cloud.earmaster.com and click on Users-->Upload list of users
Working with a master list
You can add, edit, and remove EarMaster Cloud users in bulk with a master list. This means that you will be using and updating that same one file each time you need to add or remove students to or from your account. After each upload, EarMaster Cloud will compare the new list with the users already in your account, and will operate the detected changes:
- new users will be added
- users that are in your account but have been removed from the uploaded list will be deleted
- users already in your account will not be modified (unless their details have been updated in the file)
Single-use lists for additive upload
Instead of maintaining a master list for your school, you can instead choose to upload single-use lists that only add users. You can choose to upload a list of students or a list of teachers. These users can be added to the root of the account, or to specific classes.
How to create, edit and save a user list
1) Always create and edit your lists with Notepad (Windows), TextEdit (Mac), or other text editors that can save CSV files in UTF-8 format in plain text (i.e. without formatting).
Important: Rich text word processors and spreadsheet editors such as MS Word, OpenOffice, Apple Pages or MS Excel might break the formatting of the file, and should therefore not be used to edit your user list.
2) This list must only feature students. Teachers are added manually in the administration interface under "Manage Users" at http://cloud.earmaster.com.
3) Add one student per line using this format:
<first name> <last name>, <email>, <username>, <password>
Example:
Jorge Lopez, jlopez@email.ear, jlopez, pa55w048
Maria Collado, mariac@email.ear
Arturo Expósito, arturo@exposito.ear, exposito
NOTICE:
* <username> and <password> are only optional. If they are not specified, they will be created automatically by EarMaster Cloud for each student. You can also specify just the <username> and let the password be generated.
* Users are identified by their email. It is therefore very important that each user has his own email. 2 users with the same email will be handled as duplicate entries by EarMaster Cloud.
4) Your user list is the one an only document to be uploaded to EarMaster Cloud. It must be therefore carefully maintained. You can edit it and re-upload it as new students are added to it or former students are removed. The updated file that is uploaded should include both current users and new users. Students that are not listed in the file will be removed from your EarMaster Cloud account.
5) Save the file as .csv in UTF-8 format (very important). If you are using the file below as template, then make sure to open it with Notepad (WIndows) or TextEdit (Mac OSX) and simply use the "Save" function of your text editor in order to keep the formatting of the file.
Reviewing Student Results (for the teacher)
In the Student Results Overview window, you can easily review the results of a group of users.
Columns and panels of the Student Results Overview
The columns and panels of the Student Results Overview window display information about the settings and results of each user. Most of these can be shown and hidden using the View menu.
Name
The last and first name of the user.
Last result
Consists of three sub-columns with information about the last lesson completed among the filtered results: date, lesson title and result.
Summations
The summations consist of three sub-columns with statistics of the filtered results: Duration sum, Average answer time (per question) and Total result sum.
Course assigned
The Course that is loaded by default when the user opens EarMaster.
Class
Name of the class(es) the user is assigned to.
Toolbar
The toolbar of the Student results overview lets you control what and how users and results are displayed. Notice that results for Customized Exercises will not sync with the Cloud, as they are meant to be a free space for students to practice without being monitored.
Filter by Activity (1)
Filter results by activity using the activity icons. The star-shaped icon on the left side displays results for all activities, but by clicking on the separate activity icons, the data will be filtered so as to display results and statistics for the selected activity only.
Filter by class (2)
Choose the class or user type to display in the list of users. Choose a specific class or a user type: All users, All students, All teachers, Users not in a class.
Filter by date range (3)
Filter results by date. You can select one of the pre-defined date range from the drop-down list, or specify a custom date range by selecting a start and an end date.
Filter by training mode (4)
Filter results by training mode. Training modes are courses (including your own courses) or custom exercises. Select one of the courses currently loaded in the system (including of course your own courses), or choose to only see results for customized activities.
View menu options
In the View menu, you can access most of the options available in the toolbar (see above), as well as a few additional ones:
Detailed results
Displays a list of the filtered results of the selected student (i.e. the results matching the date, course, activity, etc. filtering you have set).The detailed results are displayed according to the setting selected for the Show All Attempts option (see below).
Show all attempts (Available in the Results sub-menu)
Shows the results of all the attempts to pass the lesson as separate entries. If this option is unchecked, EarMaster will only show the best result for each lesson. This option will show the number of attempts, which is the total number of times a lesson has been started and a result was saved.
EarMaster results and Cloud syncing
Results are uploaded to the Cloud

Results can be deleted by students

Results can be deleted by Teacher

Customized Activities

NO

YES

(Locally only)

N/A

Standard Course

YES

YES

(Locally and from the Cloud)

YES

Jazz Course

YES

YES

(Locally and from the Cloud)

YES

Custom courses and assignments

YES

NO

YES