Tutorials
Series of tutorials to get the most out of your EarMaster software
---
* Tutorial for EarMaster Cloud account administrators
---
Instructions
Your list of students is a master list. This means that you should be using and updating that same one file each time you need to add or remove students to or from your account.
After each upload, EarMaster Cloud will compare the new list with the users of your account, and will operate the detected changes:
- new users will be added
- users that are in your account but have been removed from the uploaded list will be deleted
- users already in your account will not be modified (unless their details have been updated in the file)
1) Always create and edit the file with Notepad (Windows), TextEdit (Mac), or other text editors that can save CSV files in UTF-8 format in plain text (i.e. without formatting).
Important: Rich text word processors and spreadsheet editors such as MS Word, OpenOffice, Apple Pages or MS Excel will break the formatting of the file, and must therefore never be used to edit your user list.
2) This list must only feature students. Teachers are added manually in the administration interface under "Manage Users" at http://cloud.earmaster.com.
3) Add one student per line using this format:
<first name> <last name>, <email>, <username>, <password>
Example:
John Smith, jsmith@email.ear, jsmith, pa55w048
W. A. Mozart, wa@mozart.ear
John O. Doe, johndoe@nowhere.ear, johndoe
NOTICE:
* <username> and <password> are only optional. If they are not specified, they will be created automatically by EarMaster Cloud for each student. You can also specify just the <username> and let the password be generated.
* Users are identified by their email. It is therefore very important that each user has his own email. 2 users with the same email will be handled as duplicate entries by EarMaster Cloud.
4) Your user list is the one an only document to be uploaded to EarMaster Cloud. It must be therefore carefully maintained. You can edit it and re-upload it as new students are added to it or former students are removed. The updated file that is uploaded should include both current users and new users. Students that are not listed in the file will be removed from your EarMaster Cloud account.
5) Save the file as .csv in UTF-8 format (very important). If you are using the file below as template, then make sure to open it with Notepad (WIndows) or TextEdit (Mac OSX) and simply use the "Save" function of your text editor in order to keep the formatting of the file.
---
* Tutorial for teachers using EarMaster Cloud. Most of the content of the tutorial also apply to EarMaster Teacher Ed. and EarMaster Lab Packs.
---
Things you need:
1. A microphone. There are several options:
- A computer with a built-in microphone. All laptops with a webcam usually have a built-in microphone.
- a USB microphone
- a microphone plugged into an external USB soundcard
2. A pair of headphones
STEP 1:
Make sure your microphone and headphones are connected properly to your computer, and that the input and output volumes are set correctly.
To do that, do that following:
Windows: Right-click on the speaker icon at the bottom of your screen and choose "Recording devices". Make sure that your microphone is displayed with a check mark, and that the meter moves up and down when you speak into the mic.
Mac: Go to Preferences, click on "Sound", make sure that your mic is selected as input device, and that the level meter moves when you speak into the mic.
STEP 2:
- Start EarMaster
- Go to FILE-->USER PROPERTIES and make sure the appropriate vocal range is selected for your voice. If you are in doubt of your vocal range, please ask your teacher or find references in music theory reference books or on the web. The most common vocal ranges are soprano or mezzo-soprano (slightly deeper) for female and baritone or tenor (slightly higher pitched) for male.
- Select an activity that requires the use of a microphone, such as interval singing, sight-singing or melody imitation.
- If it is the first time you use those activities, a microphone setup tool should pop up. Follow the instructions carefully to make sure everything is set up properly.
- If the setup tool doesn't show up automatically, you can open it from the TOOLS menu, by clicking on "Microphone Calibration Tool".
Notice: the precision of the pitch and beat detection you get in the setup tool is exactly the same as how EarMaster will interpret your answers. Therefore, be very careful not to leave the setup tool before your voice and clapping are recognized correctly by EarMaster.
STEP 3:
In most activities, microphone is not turned on by default.
To activate the microphone as answering method, click on the microphone icon at the top right of the window.
If sound is registered by the software, a level meter right beside the mic icon will move up and down, and EarMaster is ready to detect the notes you sing or clap.
Notice: It is highly recommended to use headphones, so that the sounds played by the software, such as the metronome ticks for example, are not going into the mic and considered as part of your answers.
FAQ about microphone input:
Q: The tones I sing are visible on the staff, but then disappear. Why?
A: You need to hold the tones you sing for some time before they are considered a confirmed answer. You can define how long you are expected to hold the tone in TOOLS-->PREFERENCES-->Auto Insert. By default, it is set to 1600ms, but if you find it to be too much, you could set it to 600ms
Q: Should I invest in an expensive microphone for better results?
A: The pitch detection has been optimized to work great with any kind of microphone, so a simple webcam mic will actually do just great.
Q: I can't get it to work. What can I do?
A: If you have followed the instructions of this guide, but couldn't get the mic input to work, please get in touch with our support staff. We'll do our best to assist you.
---
When your teacher added you as a user on your school's EarMaster Cloud account, an e-mail containing your user credentials was sent to you. You will need these credentials to connect and sync EarMaster on your Mac or PC with the EarMaster Cloud account of your school.
Your EarMaster Cloud credentials consist of:
The school ID of your school
Your user name
Your password
As soon as you have downloaded and installed EarMaster on your Mac or PC, the software will run in trial mode. What you need to do is activate it with your EarMaster Cloud credentials.
When starting EarMaster for the first time, you will be asked whether you want to use it in trial mode, to activate it with a serial number or to activate it with a Cloud account. Choose that last option, and fill out the fields with the Cloud credentials you received by e-mail: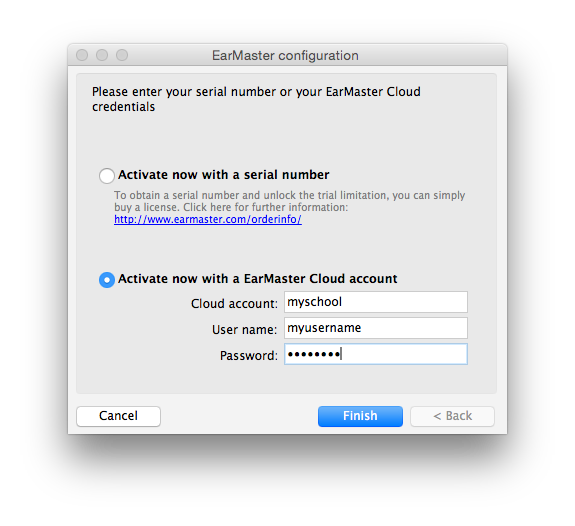 If the license activation window doesn't show up automatically, or if you already have a EarMaster Pro or Teacher license, then simply go to the FILE menu, Click on USER PROPERTIES, and go to the CLOUD SYNC tab. Fill out your Cloud credentials, click on "Check account" to make sure you typed everything correctly. Finally check the "Activate Cloud sync" box at the top left to activate the software: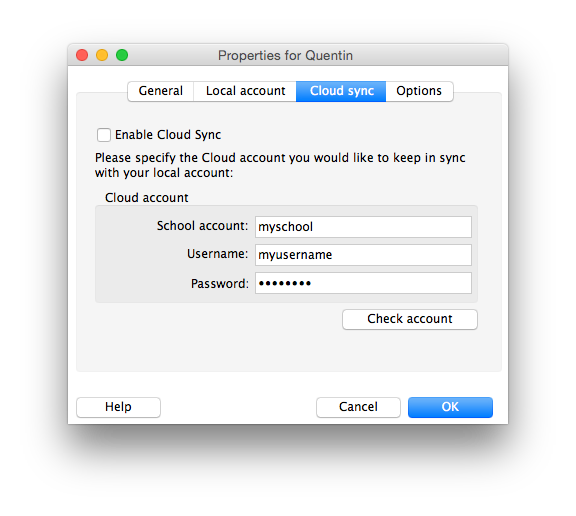 ---
If multiple EarMaster Cloud users are to log in on the same computer using different accounts, you need to activate the Direct Cloud login option available in File-->EarMaster Login... (or Tools-->System Administration Settings in EarMaster Lab Pack). Optionally, you can fill out the School ID of your school's EarMaster Cloud account in the field below the option so that users won't have to type the school account ID each time they need to log in.
Attention You should never use the File-->User Properties-->Cloud Sync option (described in previous tutorial) to log in with multiple user accounts, as it is linked to your local EarMaster user files. Doing so will overwrite all personal EarMaster data (results, settings, preferences, and more).
---
In the Student Results Overview window, you can easily review the results of a group of users.
Columns and panels of the Student Results Overview
The columns and panels of the Student Results Overview window display information about the settings and results of each user. Most of these can be shown and hidden using the View menu.
Name
The last and first name of the user
Last result
Consists of three sub-columns with information about the last lesson completed among the filtered results: date, lesson title and result.
Summations
The summations consist of three sub-columns with statistics of the filtered results: Duration sum, Average answer time (per question) and Total result sum.
Course assigned
The Course that is loaded by default when the user opens EarMaster.
Class
Name of the class(es) the user is assigned to.
Toolbar
The toolbar of the Student results overview lets you control what and how users and results are displayed. Notice that results for Customized Exercises will not sync with the Cloud, as they are meant to be a free space for students to practice without being monitored.
Filter by Activity (1)
Filter results by activity using the activity icons. The star-shaped icon on the left side displays results for all activities, but by clicking on the separate activity icons, the data will be filtered so as to display results and statistics for the selected activity only.
Filter by class (2)
Choose the class or user type to display in the list of users. Choose a specific class or a user type: All users, All students, All teachers, Users not in a class.
Filter by date range (3)
Filter results by date. You can select one of the pre-defined date range from the drop-down list, or specify a custom date range by selecting a start and an end date.
Filter by training mode (4)
Filter results by training mode. Training modes are courses (including your own courses) or custom exercises. Select one of the courses currently loaded in the system (including of course your own courses), or choose to only see results for customized activities.
View menu options
In the View menu, you can access most of the options available in the toolbar (see above), as well as a few additional ones:
Detailed results
Displays a list of the filtered results of the selected student (i.e. the results matching the date, course, activity, etc. filtering you have set).The detailed results are displayed according to the setting selected for the Show All Attempts option (see below).
Show all attempts (Available in the Results sub-menu)
Shows the results of all the attempts to pass the lesson as separate entries. If this option is unchecked, EarMaster will only show the best result for each lesson. This option will show the number of attempts, which is the total number of times a lesson has been started and a result was saved.
EarMaster results and Cloud syncing
Results are uploaded to the Cloud

Results can be deleted by students

Results can be deleted by Teacher

Customized Ativity

NO

YES

(Locally only)

N/A

Standard Course

YES

YES

(Locally and from the Cloud)

YES

Jazz Course

YES

YES

(Locally and from the Cloud)

YES

Custom courses and assignments

YES

NO

YES
---
EarMaster can use MusicXML files in several activities.
MusicXML is a file format for music notation which makes it possible to exchange music scores across various music programs. Most notation programs, such as Finale, Sibelius, Notion, MuseScore or Pizzicato, can export music scores as MusicXML. These MusicXML files can be imported in EarMaster and used in several activities such as Melodic Dictation, Sight-singing, Melody Imitation, and most of the Rhythmic activities.
Notice however that EarMaster will only be able to import music made of melodic content on up to 4 staves. Chords notated on a single staff are not supported yet.