Guitar Pro 7
Brand new version of the #1 guitar tablature editor for Windows and Mac
Guitar Pro 7 is the world's leading score reader and editor among guitarists and bassists, but it's also a perfect tool for all instrumentists!
Guitar Pro 7 allows you to compose and read music scores using the musical notation of your favorite instrument. Display the tablature notation to learn guitar riffs or use the standard notation to read music score for piano, drums, brass and strings. Rediscover also the Slash notation to sight-read easily rhythmic patterns from chord charts.
A Guitar Pro 7 license can be activated on up to 5 computers.
Notice: This is a download version delivered by e-mail. No physical product will be shipped.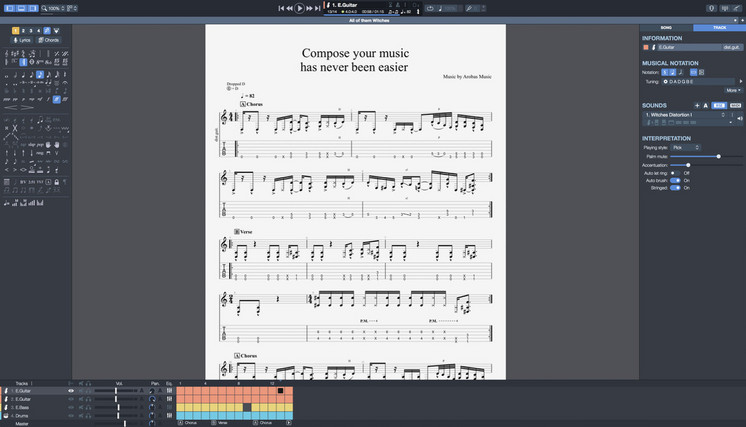 Guitar Pro 7 Features
Tablature and score reader
Guitar Pro offers many reading features: 3 types of notation (standard/tablature/slash), zoom and virtual fretboard/keyboard to visualize the exact positioning of your fingers on them.
Edit your compositions
Create your own professional scores for one or several instruments and capture your notes quickly with the numerical pad, the mouse, or even a MIDI instrument.
Audio mixing
The sound engine offers more than 200 soundbanks, effects and amps recorded in studio. Select your sounds among our built-in sounds or create your own presets.
Improve your technique
Enjoy a series of tools to optimize your practice sessions: tempo, looper, metronome, chord and scale library, guitar and piano fretboard. You can also edit or buy full scores files and then be able to solo or mute individual parts.
Thousand of tabs online
The Guitar Pro file format is the most widespread when it comes to look for tabs online. Download songs online or access to 2000 high quality full instruments tabs made by the Guitar Pro team on mySongBook.com
Share your music
Print your tabs, read it on your Guitar Pro app for smartphone or tablet, send it by email or save it on your hard drive at any time. It is never been easier to share your music with your friends or your students.
Many languages included
The software is available in English, French, German, Russian, Simplified Chinese. Translations in other languages will be provided in the next free software updates.)
System requirements
Windows
Mac OSX
Operating system
Windows 7 SP1 / 8 / 10
Mac OS X 10.10 or later
Architecture
32 and 64 bits
32 and 64 bits
Administrator rights
Required
Required
Processor
Dual-core CPU
Dual-core CPU
RAM
2 Gb
2 Gb
Soundcard (computer)
Required
Required
Hard drive free space
4 Gb
4 Gb
Screen resolution
960 x 720 pixels
960 x 720 pixels