New EarMaster 6.2 Major Update available
EarMaster 6 has just been updated to version 6.2. This free major update includes a tuned-up user interface, new sight-singing and ear training exercises revisiting the roots of Jazz and Blues music, and hundreds of other improvements.
EarMaster 6.2 is free for all EarMaster 6 users (Pro, Teacher, Lab Pack and Cloud versions). It includes hundreds of improvements and new features, adding up to the plethora of music learning tools already available in the software.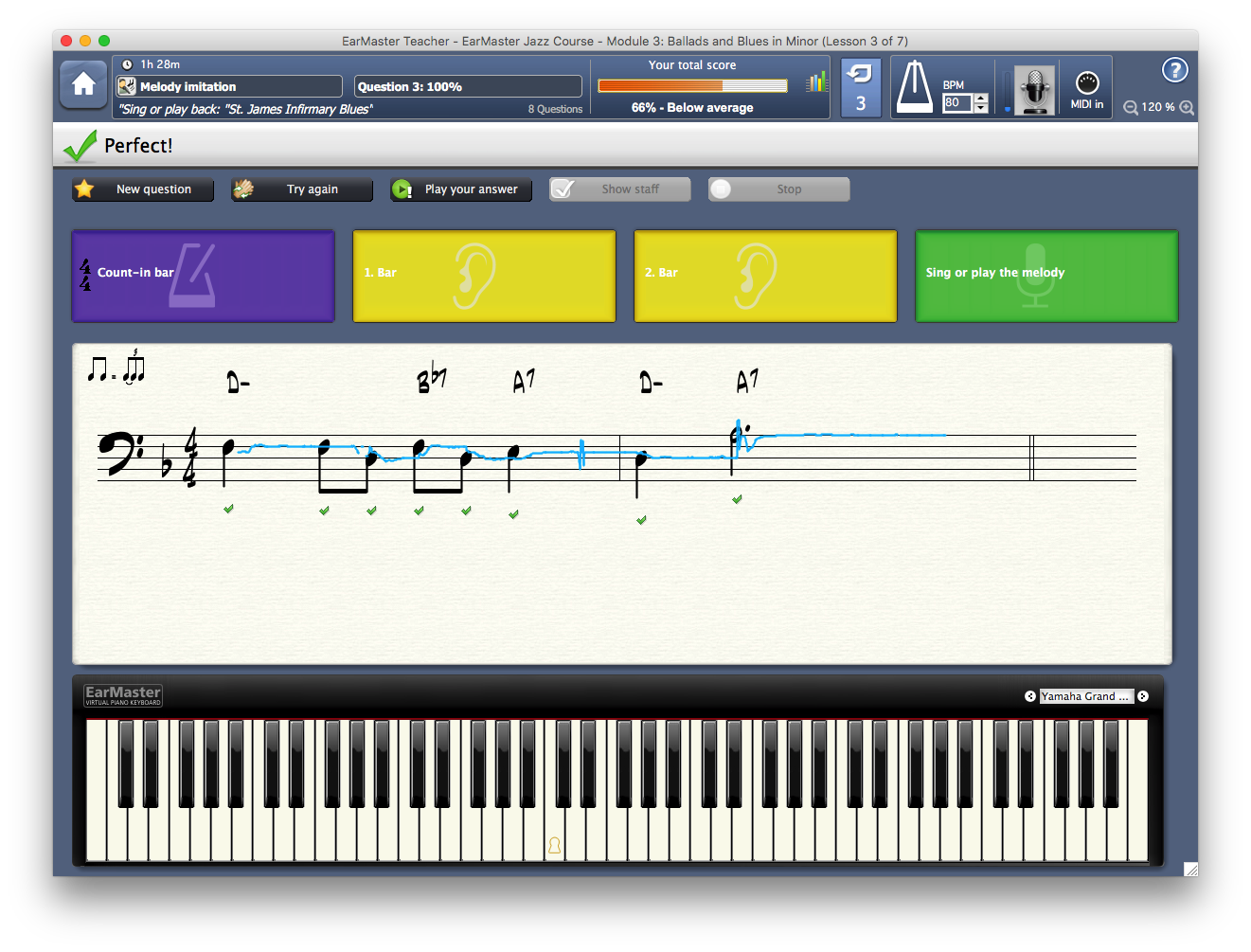 New Jazz course to explore the roots of Jazz and Blues music
The new EarMaster Jazz course includes hundreds of exercises for sight-singing and ear training (melodic dictation and melody sing-back). The lessons cover such topics as «Blues Scales and Blues Songs», «1920's American Swing Hits», «Ballads and Blues in Minor», «Novelty Songs and Rhythms», «Irish Ballads & Folk Music», «Fun with Irving Berlin», as well as a variety of Jazz and Blues all-time classics such as "After You've Gone", "St. James Infirmary", "Mandy", "The Sheik of Arabia", "At the Devil's Ball", "Missouri Waltz" and many more.
Tuned-up user interface
The user interface of EarMaster 6 has been revised and updated according to user feedback, with a lot of adjustments in the color scheme, icon sets, and more., as well as a refined welcome screen. The result is a better-looking, easier-to-use and more intuitive program.
Under-the-hood improvements
Improved pitch recognition algorithm for vocal input
Automatic note stem direction
Improved Music XML import
Direct access to login type selection (Automatic, Manual or Cloud login)
New tone range presets added for audio input: Guitar, Bass guitar
New languages: Japanese, Turkish, Norwegian, Hungarian, Finnish
New auto-proxy setting for activation and Cloud syncing
New lesson introduction window
New lesson type: Instruction lessons
And many more...
How to get the EarMaster 6.2 update
Most EarMaster 6 users can simply start the program while connected to the internet in order to be invited to download the free update from earmaster.com.
Mac App Store users must update the software via the Mac App Store application. The 6.2 update will be available as soon as it has been reviewed and approved by Apple.
New users can try out the new version by downloading it from http://www.earmaster.com/downloads/trial-versions.html