Upload a student list (for advanced users)
EarMaster Cloud user list uploads can contain either students or teachers, can be uploaded as .csv files or directly from a browser, and can work as master lists or single-use additive lists. You can combine the options available to match your needs.
To upload a user list, go to https://cloud.earmaster.com and click on Users-->Upload list of users
Working with a master list
You can add, edit, and remove EarMaster Cloud users in bulk with a master list. This means that you will be using and updating that same one file each time you need to add or remove students to or from your account. After each upload, EarMaster Cloud will compare the new list with the users already in your account, and will operate the detected changes:
- new users will be added
- users that are in your account but have been removed from the uploaded list will be deleted
- users already in your account will not be modified (unless their details have been updated in the file)
Single-use lists for additive upload
Instead of maintaining a master list for your school, you can instead choose to upload single-use lists that only add users. You can choose to upload a list of students or a list of teachers. These users can be added to the root of the account, or to specific classes.
How to create, edit and save a user list
1) Always create and edit your lists with Notepad (Windows), TextEdit (Mac), or other text editors that can save CSV files in UTF-8 format in plain text (i.e. without formatting).
Important: Rich text word processors and spreadsheet editors such as MS Word, OpenOffice, Apple Pages or MS Excel might break the formatting of the file, and should therefore not be used to edit your user list.
2) This list must only feature students. Teachers are added manually in the administration interface under "Manage Users" at http://cloud.earmaster.com.
3) Add one student per line using this format:
<first name> <last name>, <email>, <username>, <password>
Example:
John Smith, jsmith@email.ear, jsmith, pa55w048
W. A. Mozart, wa@mozart.ear
John O. Doe, johndoe@nowhere.ear, johndoe
NOTICE:
* <username> and <password> are only optional. If they are not specified, they will be created automatically by EarMaster Cloud for each student. You can also specify just the <username> and let the password be generated.
* Users are identified by their email. It is therefore very important that each user has his own email. 2 users with the same email will be handled as duplicate entries by EarMaster Cloud.
4) Your user list is the one an only document to be uploaded to EarMaster Cloud. It must be therefore carefully maintained. You can edit it and re-upload it as new students are added to it or former students are removed. The updated file that is uploaded should include both current users and new users. Students that are not listed in the file will be removed from your EarMaster Cloud account.
5) Save the file as .csv in UTF-8 format (very important). If you are using the file below as template, then make sure to open it with Notepad (WIndows) or TextEdit (Mac OSX) and simply use the "Save" function of your text editor in order to keep the formatting of the file.
Recuperación de inicio de sesión de EarMaster Cloud
¿Perdió sus credenciales de EarMaster Cloud? Obtenga nuevos aquí
Ingrese el correo electrónico utilizado con su cuenta de usuario de EarMaster Cloud y haga clic en "Reset" para generar una nueva contraseña y recibir sus credenciales de usuario de EarMaster Cloud por correo electrónico.
Como Conectar EarMaster con su cuenta de Cloud
Conecte y sincronice la aplicación EarMaster en Windows, OS X e iOS con la cuenta EarMaster Cloud de su escuela.
How to proceed
An email containing your EarMaster Cloud user credentials was sent to you when your teacher create your account. You will need these credentials to connect and sync EarMaster on your Mac or PC with the EarMaster Cloud account of your school.
Your EarMaster Cloud credentials consist of:
The school ID of your school
Your user name
Your password
iPad
Download the free EarMaster App from the App Store
Tap the cloud-shaped icon at the top left of the screen, type your EarMaster Cloud user credentials and tap "Log in".
PC/Mac
Download EarMaster for PC or Mac OS X using the download link located in the email you received from EarMaster Cloud.
When starting EarMaster for the first time, it ask you to activate it. If you are going to be the only EarMaster Cloud user on the computer, read the Only one user on the computer. if you intend to use the PC/Mac version with several EarMaster Cloud users/logins, then read the Multiple users on the same computer section further down
Only one user on the computer
Unless multiple Cloud users will be logging in on your computer, you can choose the option "Activate with a Cloud account" and fill out the fields with your EarMaster Cloud credentials.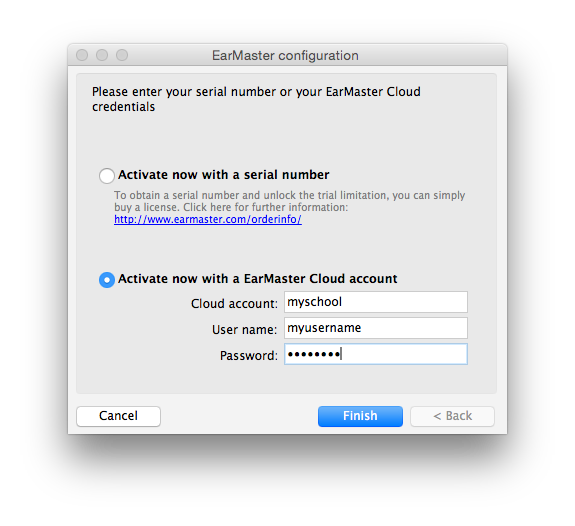 If the license activation window didn't show up automatically, or if you already have a EarMaster Pro or Teacher license, then simply go to the FILE menu, Click on USER PROPERTIES, and go to the CLOUD SYNC tab. Fill out your Cloud credentials, click on "Check account" to make sure you typed everything correctly. Finally check the "Enable Cloud sync" box at the top left to activate the software: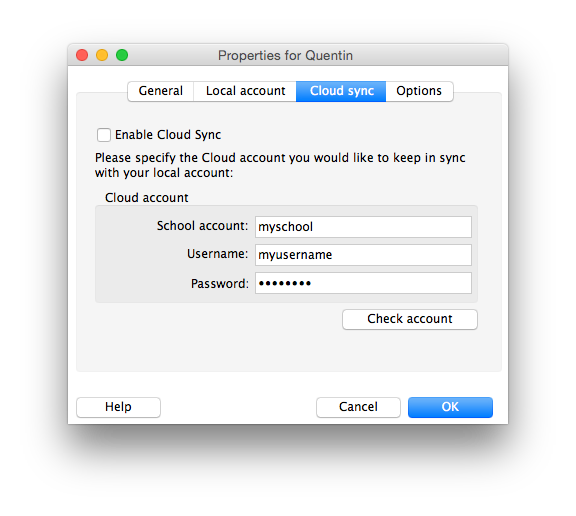 Multiple users on the same computer
If multiple EarMaster Cloud users are to log in on the same computer using different accounts, you need to activate the Direct Cloud login option available in File-->EarMaster Login... (or Tools-->System Administration Settings in EarMaster Lab Pack). Optionally, you can fill out the School ID of your school's EarMaster Cloud account in the field below the option so that users won't have to type the school account ID each time they need to log in.
Attention You should never use the File-->User Properties-->Cloud Sync option (described in previous tutorial) to log in with multiple user accounts, as it is linked to your local EarMaster user files. Doing so will mix up all personal EarMaster data (results, settings, preferences, and more).
Configuración de cuentas de EarMaster Cloud (para el administrador)
EarMaster Cloud se compone de 2 áreas separadas:
El sitio web administrativo en https://cloud.earmaster.com: aquí es donde el administrador de la cuenta de una escuela gestiona usuarios, créditos y clases.

.

La aplicación EarMaster para Windows, Mac y iPad, que es donde de hecho se realiza el entrenamiento de oído. Estudiantes y maestros conectan la aplicación a la cuenta de EarMaster Cloud de su escuela usando sus credenciales personales de usuario de EarMaster Cloud. Tan pronto como la aplicación esté conectada, obtendrá los datos de la clase y del curso de la nube y cargará todos los resultados automáticamente cuando los estudiantes completen sus asignaciones.
Cómo proceder
1. Vaya a https://cloud.earmaster.com e inicie sesión con su login de administrador, que le fue enviado por correo electrónico y consta de:
- ID de cuenta de la escuela
- Contraseña
Si todavía no ha creado una cuenta, haga clic en Sign up (Regístrate) y cree una School account ID (cuenta de la escuela) utilizando el número de serie que le fue entregado cuando compró sus créditos de EarMaster Cloud.
2. Lo primero que ves cuando has iniciado sesión es el Dashboard.(tablero) Se mostrará información sobre cuántos créditos están disponibles para su cuenta, cuántos usuarios y clases están activos, etc.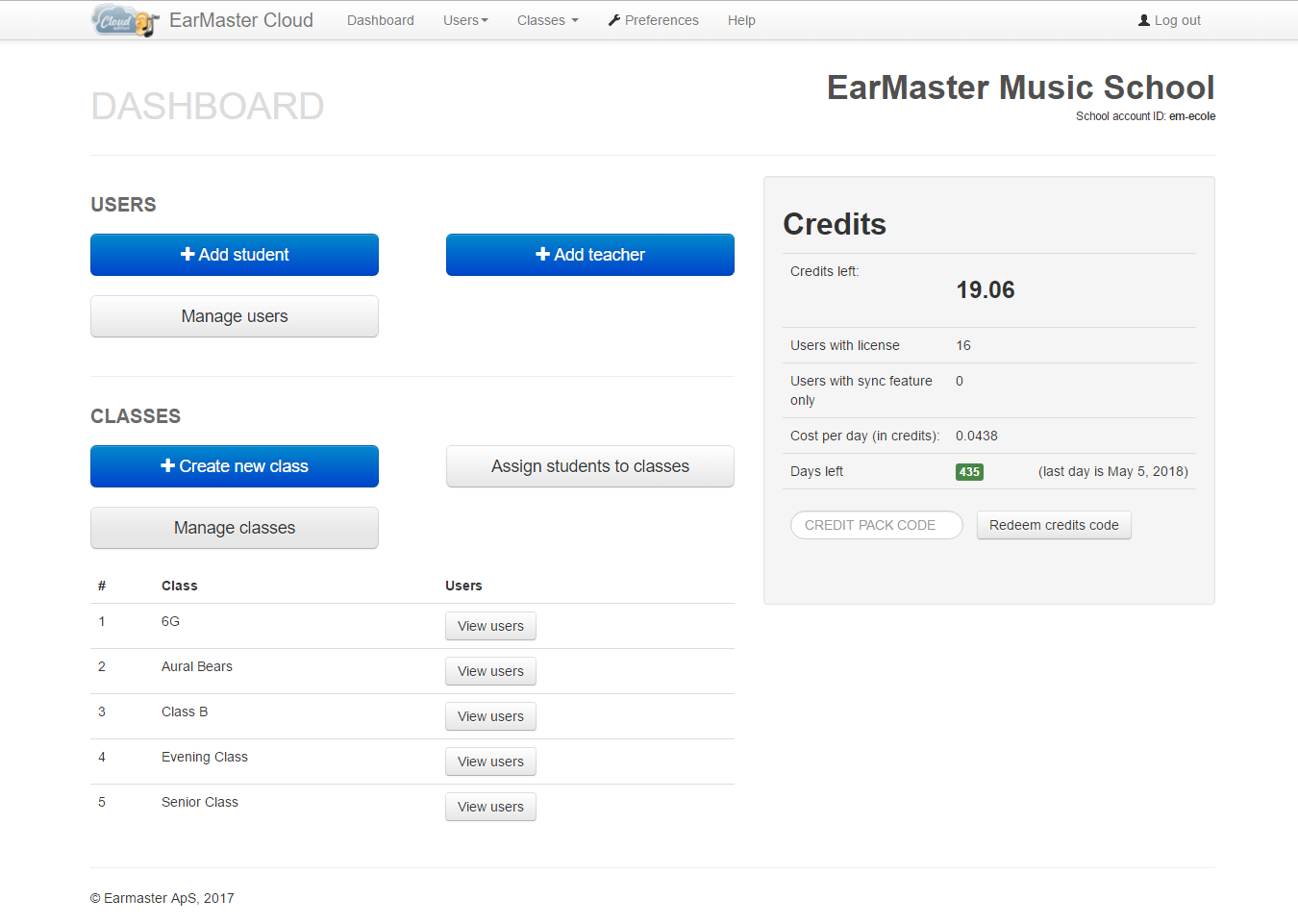 3. [Opcional] Haga clic en Manage Classes (Administrar clases) y crea clases (grupos de estudiantes que trabajarán en las mismas asignaciones). Este paso es opcional, pero incluso con sólo unos pocos estudiantes, hará que sea mucho más fácil asignar cursos más adelante.
4. Haga clic en Manage Users para administrar los usuarios de la cuenta de su escuela:
Añada nuevos estudiantes o maestros usando los botones correspondientes en la parte superior derecha de la página. Si deseas utilizar el software PC / Mac o la aplicación iPad, deberás crear una cuenta de profesor (Teacher). Todos los usuarios que agregue recibirán automáticamente un correo electrónico con un enlace de descarga y sus credenciales de usuario. Así que asegúrese de que sus estudiantes son conscientes de que recibirán un correo electrónico de EarMaster Cloud antes de agregarlos, de lo contrario podrían eliminar el correo electrónico o ignorarlo.
Si los usuarios han olvidado o perdido sus credenciales de usuario, puedes reenviarlos mediante la función Resend email (Reenviar correo electrónico).
También puedes eliminar los usuarios que no deberían estar activos marcando las casillas de la columna izquierda y haciendo clic en el botón Delete (eliminar):
5. [Opcional] Si has creado clases, ahora puedes enviar a sus alumnos a ellos mediante el botón Assign students to class button del panel de control.
6. Los usuarios han recibido sus credenciales de usuario, por lo que ahora pueden conectar el software o la aplicación a EarMaster Cloud (lea la pestaña (Conecte EarMaster a la nube))
7. Si tienes una cuenta de Profesor, tendrás acceso a una sección especial en el software de PC / Mac (no disponible en iPad todavía):
Comience creando una asignación (llamada "Curso" en EarMaster) usando el Editor de cursos.
Guarde tu curso, luego vaya a Class Administration (Gestión de clases) y assign your course to a class (asigne su curso a una clase). Sólo puede haber UN curso asignado a una clase a la vez (es decir, no es posible poner en cola varios archivos de curso), pero los estudiantes podrán terminar el curso asignado anteriormente. Cuando estén listos para pasar al curso que se les está asignando, pueden hacer clic en el icono en forma de sobre que se muestra en la pantalla de inicio de EarMaster junto a su asignación actual.

Aquí hay un VIDEO TUTORIAL que muestra cómo se crean y asignan los cursos:: https://youtu.be/VEO7oNY8ftM