Discover EarMaster on PC, Mac & iPad
Ear training and music theory software for all musicians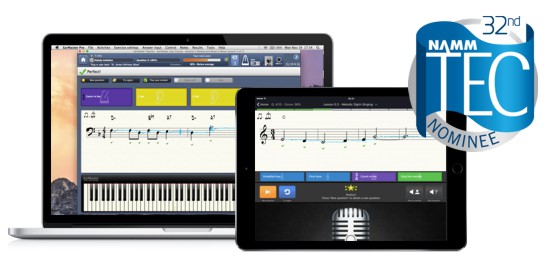 Watch video Try it free Buy it now
EarMaster is used by leading music schools in most countries:

---
Music Theory & Ear training Software for All Skill Levels
The easy, motivating and efficient way to become a better musician
We made the news!
Watch EarMaster in the "Back to school" episode of NewsWatch, which was broadcast on the Discovery Channel
Learn to play by ear and read from sheet music with EarMaster
| | |
| --- | --- |
| Sight-singing exercise with real-time pitch and rhythm evaluation | Chord identification exercise with piano interface selected |
| Configure your own exercises easily | Learn to identify intervals, chords, scales, melodies by ear |
Over 2000 exercises for ear training, sight-singing, and rhythm training for all skill levels
Learn to recognize, transcribe, play and sing melodies, scales, chords, intervals, chord progressions and rhythms
Jazz course with swing rhythms, jazz chords, and sight-singing of Jazz standards
Detailed statistics to monitor your progress
Customize the exercises to practice the way you want
Use a microphone or a MIDI Keyboard to play, sing and clap your answers in real-time
Used by thousands of music schools across the globe
Available in 14 languages on Windows and Mac OSX!
Buy it now for only

US$ 59.95

- Instant delivery!
Free trial version for PC and Mac available - Get started today!
Free Download >> Buy Now >>

Have a Mac? You can also get EarMaster from the Mac AppStore!


The most important thing I look for in a musician is whether he knows how to listen

- Duke Ellington
Chris Minh Doky

Professional Jazz bassist

I quickly found out that ear training was important.
Dr. David Ehrke

University of Nevada, Reno

Finally a comprehensive ear training program that truly suits our needs at UNR.
Damien Nolan

Guitarist - Pete Townshend, Skunk Anansie

I have been a big EarMaster fan for many years!!
Dr. Evangelos Himonides

IOE, University of London

You cannot become a musician if you are not training your ears.

"To help get your ears to the next level, EarMaster ApS has brought out their EarMaster Pro 6 software, a program designed to get you to the next level of listening skills in a fun, educational and personalized manner."
Matt Warnock, Jazz Guitar Online (www.jazzguitar.be)
---

"This is a terrific program - one that I know will quickly become a staple in my computer lab."
Michelle Gordon, American Music Teacher Magazine