EarMaster Cloud for music schools, choirs, and universities
The ideal teaching tool for your music theory, ear training, and sight-singing classes
Learning Management System (LMS) and Course Authoring Software into one affordable solution dedicated to music theory and ear training tuition
EarMaster Cloud includes:
The EarMaster software on Windows and Mac as well as the iPad App - for both home and school use
2500 ready-to-use lessons for most teaching levels, including the new Beginner's Course and the RCM Voice Levels 1-6 exam preparation course.
A workbook editor to create your own sets of ear training, sight-singing and rhythmic exercises (PC/Mac only).
Flexible "Pay-per-Use" licensing - Pay only for what you use. Add or remove students and teachers accounts anytime you want, and without wasting a single day of use!
Automatic syncing of courses, assignments and results made in EarMaster over the internet.
Easy and flexible online license management.
Always updated to the latest EarMaster version.
No recurring fees - Re-fill your EarMaster Cloud account with more credits whenever you need.
Free and unlimited email support with qualified in-house staff.
Can work offline - No internet access? No problem - EarMaster will temporarily store all your data on your computer or iPad, and upload it to the Cloud as soon as you are online again.
"I adopted EarMaster specifically for the melodic sight-singing feature. I needed a way to get students to practice sight singing regularly and on their own, and EarMaster has been very effective for that purpose. The program does a much better job of detecting and accurately evaluating singing than did the other software I had been using previously, leading to fewer complaints from students and, I think, better learning outcomes. Some students have also chosen to use and have benefited from other features of the program, especially the customizable exercises. I also like the flexibility of the credit system for managing users".

Daniel Goldberg, Assistant Professor in Residence of Music Theory, University of Connecticut, USA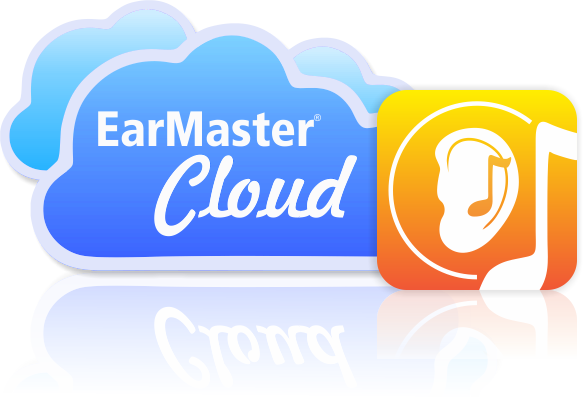 How does it work?
Order EarMaster Cloud credits (See further down for more details)
Create a school account online and assign user licenses
Go to cloud.earmaster.com to redeem your EarMaster Cloud credits, create and administrate the account of your school, add users (manually or by uploading a list of students), see how many Cloud credits you have left, and redeem additional Cloud credits.
Download EarMaster on your Mac, PC or iPad
Each user you add to the EarMaster Cloud of your school receives an email with his login credentials and a link to download the software on PC, Mac or iPad.
Assignments and results are sync'ed automatically - no setup required
Lessons, assignments, tests and results are all stored securely in the Cloud and synced automatically over the internet between the computers of the teachers and those of the students. As students complete their assignments, their results become available to the teachers in EarMaster on PC or Mac.
What does it cost?
EarMaster Cloud is sold as credits that you redeem in your EarMaster Cloud school account.
1 credit will enable 1 user for 365 days (1year).
As long as there are credits left on your account, you can enroll as many users as you want - there is no limit! When your school account runs out of credits, licences are temporarily deactived. You can then choose to resume them by adding more credits to your account. That way, you are free to purchase enough credits for several years of use in advance, thereby avoiding the hassle of yearly budgetting.
"I am [also] glad that we are not limited to the amount of users so long as we have enough credits. That is very helpful and different from a lot of software companies out there".

- Michelle Brown, Forte Academy of Music, Littleton, CO, USA
Besides being more flexible than any other Cloud-based license, EarMaster Cloud is also very affordable:
EarMaster Cloud Credits:
10 to 19 credits - US$ 9.95 per credit (= US$ 0.83 a month per user)
20 to 99 credits - US$ 7.95 per credit (= US$ 0.66 a month per user)
100 credits or more - US$ 5.45 per credit (= US$ 0.45 a month per user)

Credit packs deals - save up to 45%:
20 credits - US$ 149 (US$ 7.45 per credit)
100 credits - US$ 499 (US$ 4.99 per credit)
400 credits - US$ 1499 (US$ 3.75 per credit)
1000 credits - US$ 2999 (US$ 2.99 per credit)
Get the numbers - here is how the EarMaster Cloud credits are consumed:
One credit corresponds to 365 days (one year) of use for one user. Every day, the system will check the current number of users on your account and debit 1/365 credits for each active user. After 365 days (one year), a total of 1 credit has been debited by one user.
In the example below, having 16 active users will result in a daily charge of 0.0438 credits. There are 11.93 credits left on the account, so with 16 active users the user accounts will remain active for 272 days.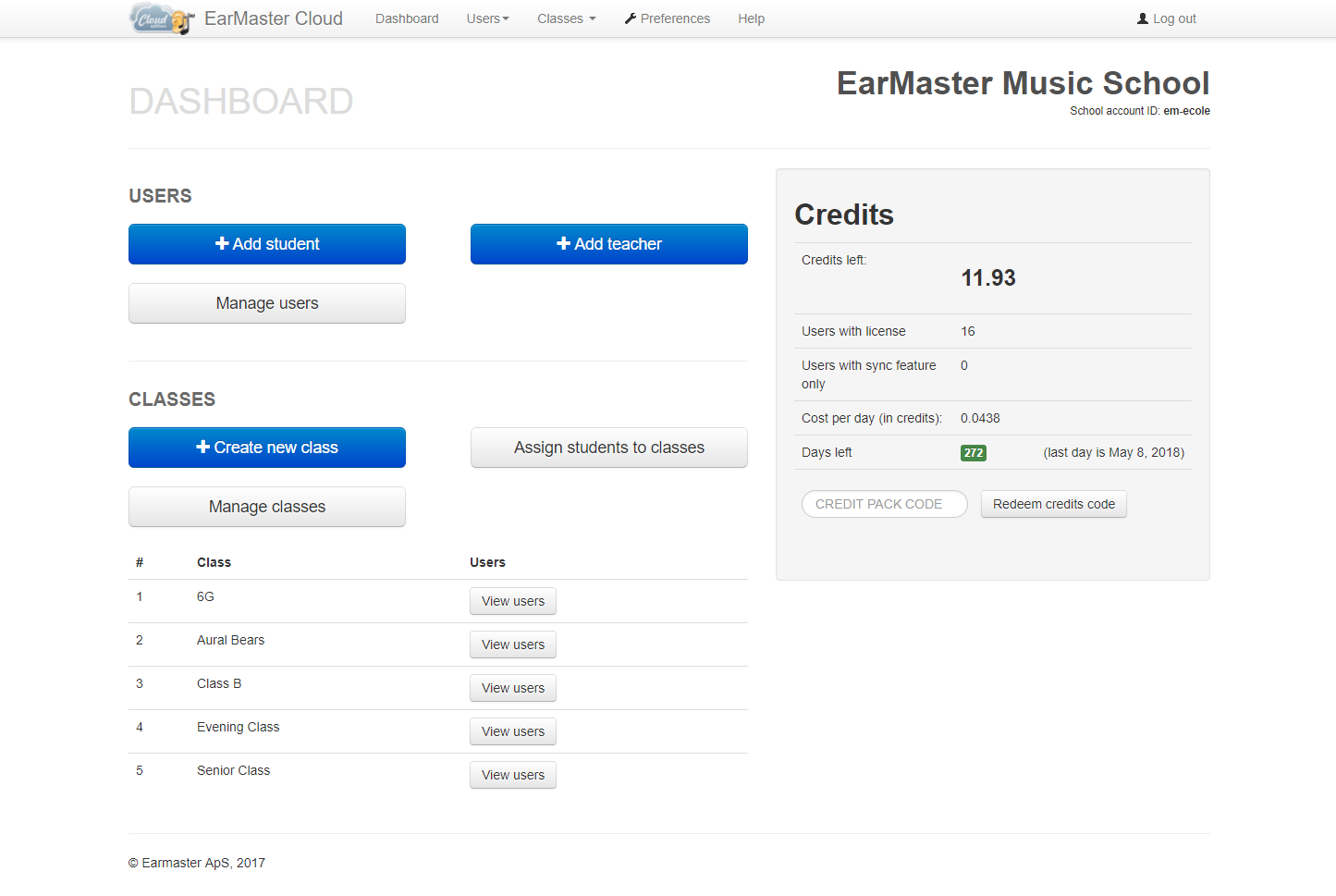 Order online or get a quote
Are you ready to use EarMaster Cloud with your ear training and music theory classes? You have 3 options:
1. Get a quote:
Go to www.earmaster.com/shop.html, select EarMaster Cloud credits or a credit pack of your choice and choose "Get a quote" as payment method. You will then receive an automatic quote by email.
If you have specific requirements, you can also request a quote from our sales team at This email address is being protected from spambots. You need JavaScript enabled to view it..

2. Order online:

Online payment with VISA, MASTERCARD, PAYPAL, or JCB.
Credit packs
are delivered instantly by email upon completion of your payment.
3. Order from a reseller:
EarMaster has a large network of distributors and resellers operating in most countries. You will find a list of our commercial partners on this page: Find a reseller >>
Questions?
If you have questions, please contact us by email at This email address is being protected from spambots. You need JavaScript enabled to view it..
We can also arrange a Skype meeting with your group of teachers and decision-makers, where we can show how the solution works and you can ask questions.