Make sure to join our next webinars for educators: REGISTER NOW

What's included?
EarMaster Cloud is an all-in-one license to use the EarMaster App with your students: no extra purchase necessary. It includes:
Student version of EarMaster on Windows, Mac, iOS, Android and Chromebook for both home and school use.
Teacher version of EarMaster on Windows and Mac with 2500 ready-to-use exercises for most teaching levels.
A workbook editor on Windows and Mac to create your own sets of ear training, sight-singing and rhythmic exercises.
Cloud syncing of assignments and student results.
Free and unlimited email support.
Melodies
Sight-singing
Melodic dictation
Melody singback
Rhythm
Rhythmic sight-reading
Rhythm clapback
Rhythmic dictation
Rhythm Error Detection
Intervals
Interval hearing
Interval singing
Interval comparison
Chords & scales
Chord hearing
Chord inversions
Chord progressions
Scale hearing

Why use EarMaster Cloud?
Self-assessment leads to better learning outcomes
EarMaster's detailed feedback helps students improve quickly though self-assessment
Monitor class results with one click
EarMaster gives educators a splendid overview of the performance of the students
Covers all aspects of Aural Training
Exercises in sight-singing, rhythm, scales, intervals, chrods, dictations, and much more
Fun and motivating
EarMaster is serious fun! Makes you want to come back an beat your last score. The perfect way to get students to practice more than ever!
Affordable and flexible licensing
EarMaster is sold as consumable credits, which makes it possible for you to assign or revoke user licenses any time - also in the middle of a Semester - cost-free! Prices range from $5 to $24 a year per student or teacher. More details further down on this page.
Request Free Trial or Live Demo
---
"I needed a way to get students to practice sight singing regularly and on their own, and EarMaster has been very effective for that purpose. The program does a much better job of detecting and accurately evaluating singing than did the other software I had been using previously, leading to fewer complaints from students and, I think, better learning outcomes".

Daniel Goldberg, Assistant Professor in Residence of Music Theory, University of Connecticut, USA
---
Teacher version on Windows and Mac
With EarMaster Cloud, teachers get access to everything from the student version of EarMaster, plus a set of additional teaching tools on PC and Mac:
A Workbook Editor to create exercises and assignments for your students
An Assignment Manager to easily assign workbooks remotely
A complete interface to monitor Student Results
A Music Library where you can browse, edit and store all the musical items (intervals, chords, scales, etc.) used in your exercises, including a collection of 600+ Classical and Jazz scores
an online Admin Console to manage users and classes online
Cloud syncing of assignments and results for remote teaching
---
Create exercises easily with the Workbook Editor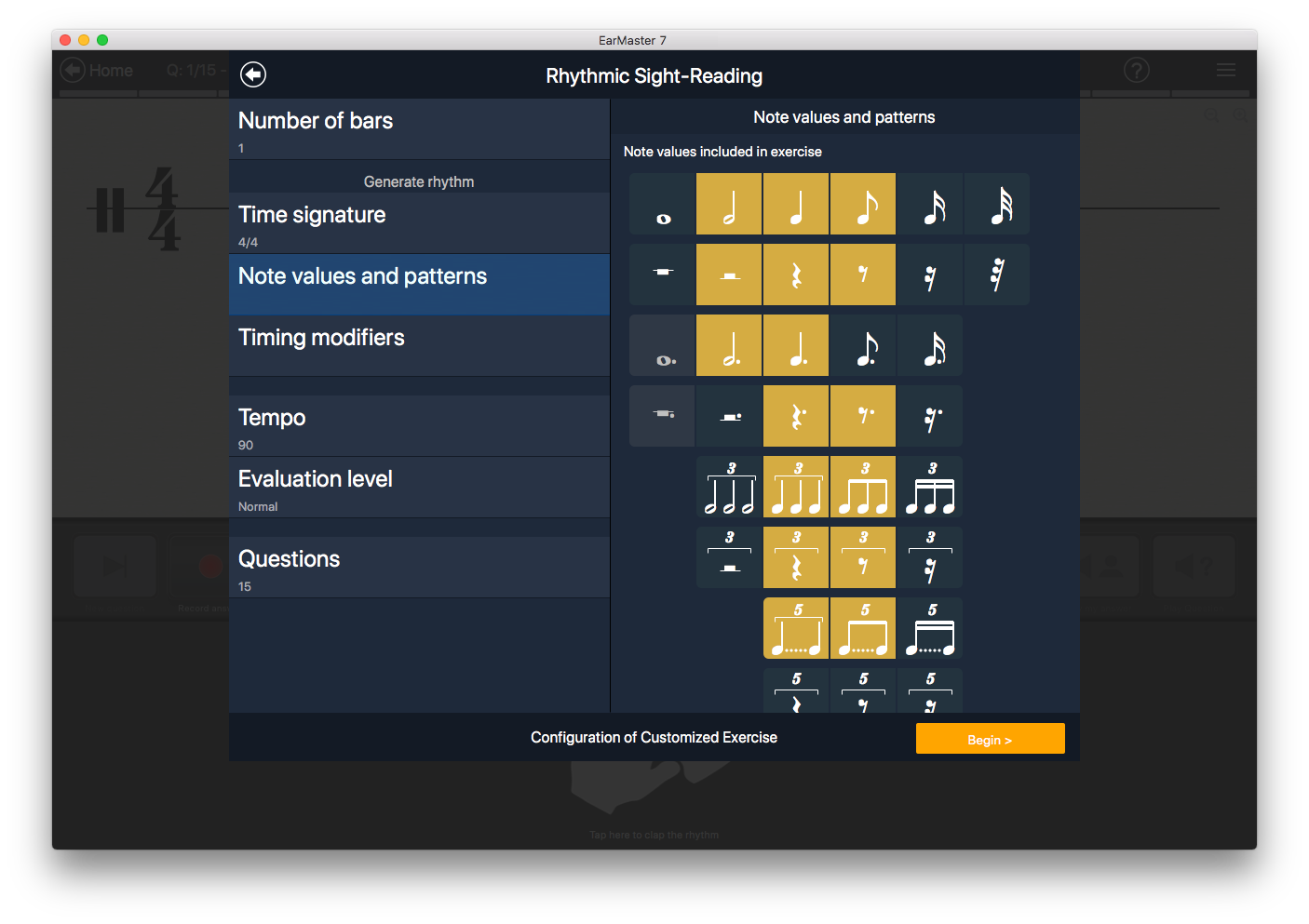 EarMaster Cloud comes with a built-in workbook editor that will help you create complete sets of exercises that follow your class curriculum.
Workbooks made in EarMaster are easily assigned to whole classes or to individual students. Workbooks assigned to a student show up automatically in EarMaster when he/she starts it.
You can configure the activities available in EarMaster to have the software generate exercises on-the-fly, or you can base your assignments on scores from EarMaster's score library. It includes 200+ Jazz lead sheets taken from the Fake Book, as well as 400+ classical scores (Bach, Mozart, Haydn, etc.).
---
Monitor the results of your students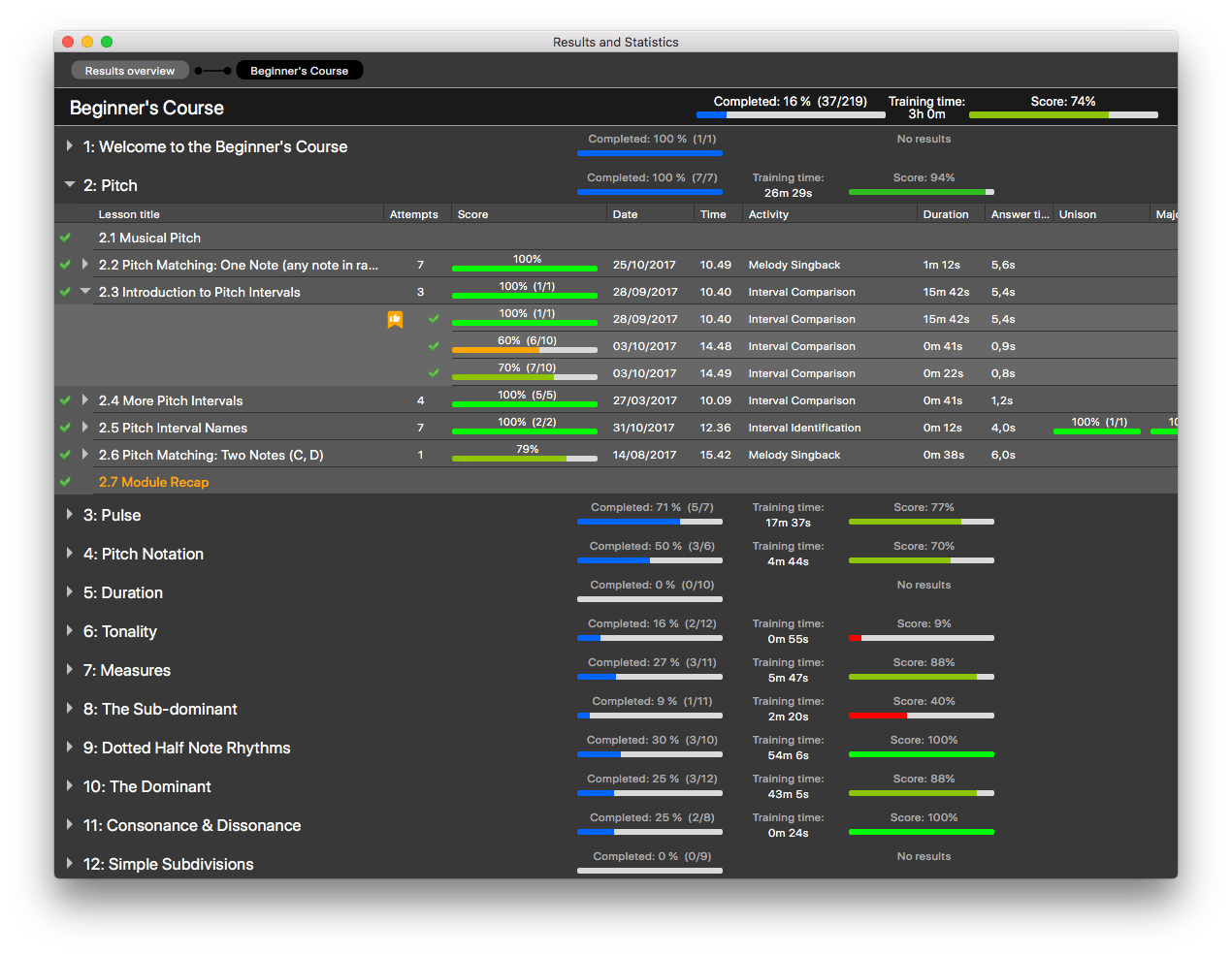 The Student Results interface displays useful information about the results of each student. It makes it very easy to spot areas which some of your students may be struggling with, or to identify topics that need to be covered for the next class sessions. All results and statistics can be printed or exported to a CSV file.
---
Hand out assignments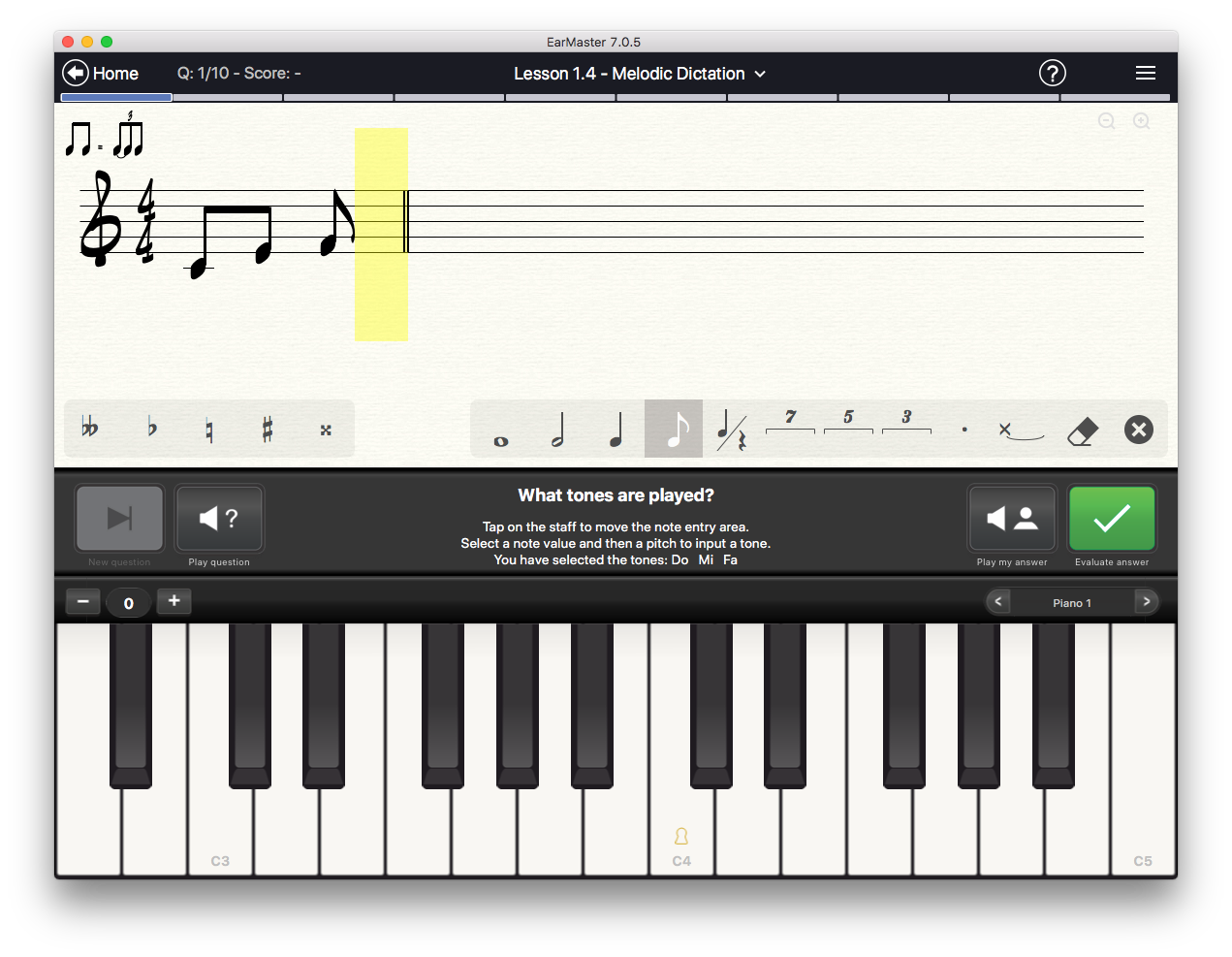 Share your assignments, drills and tests easily with your students and classes.Everything is kept automatically in sync and ready to use anytime, anywhere: New assignments are loaded automatically in the student app, and student results show up instantly in the teacher version as the students complete their assignments.
---
EarMaster Cloud can be acquired in two different ways:
OPTION 1 - School-paid licenses

lets you pay for the licenses of both the teachers and the students with a flexible system of consumable credits at very affordable prices, from $5 or €5 per user per year. [click for details]

EarMaster Cloud "credits" are bought by your school, loaded on your school account, and then consumed each day according to the current number of students and teachers enrolled in your school account : 1 credit = 365 days of use by 1 user (student or teacher).

Example: 10 users will consume 10 credits in 1 year, 5 users will consume 10 credits in 2 years, 20 users will consume 10 credits in 6 months, 30 users will consume 10 credits in 4 months, and 1000 users will consume 10 credits in just a few days. As long as there are credits left on your account, you can add or remove as many users as you want, anytime you want, without wasting a single day of usage. The credit consumption rate will be instantly updated and displayed in your Admin dashboard instantly. EarMaster Cloud credits are an extremely flexible licensing solution!

When your school account runs out of credits, licences are temporarily deactivated. You can then choose to resume them by adding more credits to your account. That way, you are free to purchase enough credits for several years of use in advance, thereby avoiding the hassle of yearly budgeting.

Cloud credits calculator


Calculate how many credits you need

Your selection:

12 months with 19 users

CREDITS NEEDED:

20 CREDITS

Notice: the minimum order size is 5 credits.

TOTAL COST:

0

Notice: the total price is for 5 credits.

= .00 per credit

Prices displayed in US Dollars excluding taxes.

EarMaster Cloud Credits:
5 to 9 credits - .00 per credit (= .00/month per user)
10 to 19 credits - .00 per credit (= 178.33/month per user)
20 to 99 credits - .00 per credit (= 178.00/month per user )
100 credits or more - .50 per credit (= $ 5.50 .71/month per user)

Credit pack deals - save up to 40%:
Pack of 10 credits - 5 (.50 per credit)
Pack of 20 credits - 5 (.25 per credit)
Pack of 100 credits - 5 (.75 per credit)
Pack of 400 credits - 99 (.25 per credit)
Pack of 1000 credits - 99 (.99 per credit)

"I am [also] glad that we are not limited to the amount of users so long as we have enough credits. That is very helpful and different from a lot of software companies out there".

- Michelle Brown, Forte Academy of Music, Littleton, CO, USA
OPTION 2 - Student-paid subscriptions + Free teacher accounts

lets you invite students to pay for their own access to EarMaster. Inviting students unlocks free teacher licenses (from 5 invited students), so your school isn't spending anything to use EarMaster Cloud. [click for details]

Students subscribe to EarMaster on a private basis. The subscription costs [module-176] per month and there is no binding period.

Schools get a free school account with 1 free teacher account. Schools get 1 additional teacher account per steps of 20 subscribed students

To get started with this option and obtain your free school account, please contact This email address is being protected from spambots. You need JavaScript enabled to view it.
Request Free Trial or Live Demo
---
How to order EarMaster Cloud credits:
Get a quote:
- Order online and select "Get a quote" as payment method. You will then receive an automatic quote by email.
- Request a custom quote by email at This email address is being protected from spambots. You need JavaScript enabled to view it..
Order online:
Online payment with VISA, MASTERCARD, PAYPAL, or JCB. Credit packs are delivered instantly by email upon completion of your payment. Buy online >>
Order from a reseller
EarMaster has a large network of distributors and resellers operating in most countries. You will find a list of our commercial partners on this page: Find a reseller >>