Become a Better Musician with EarMaster
The leading app for ear training, sight-singing & rhythm training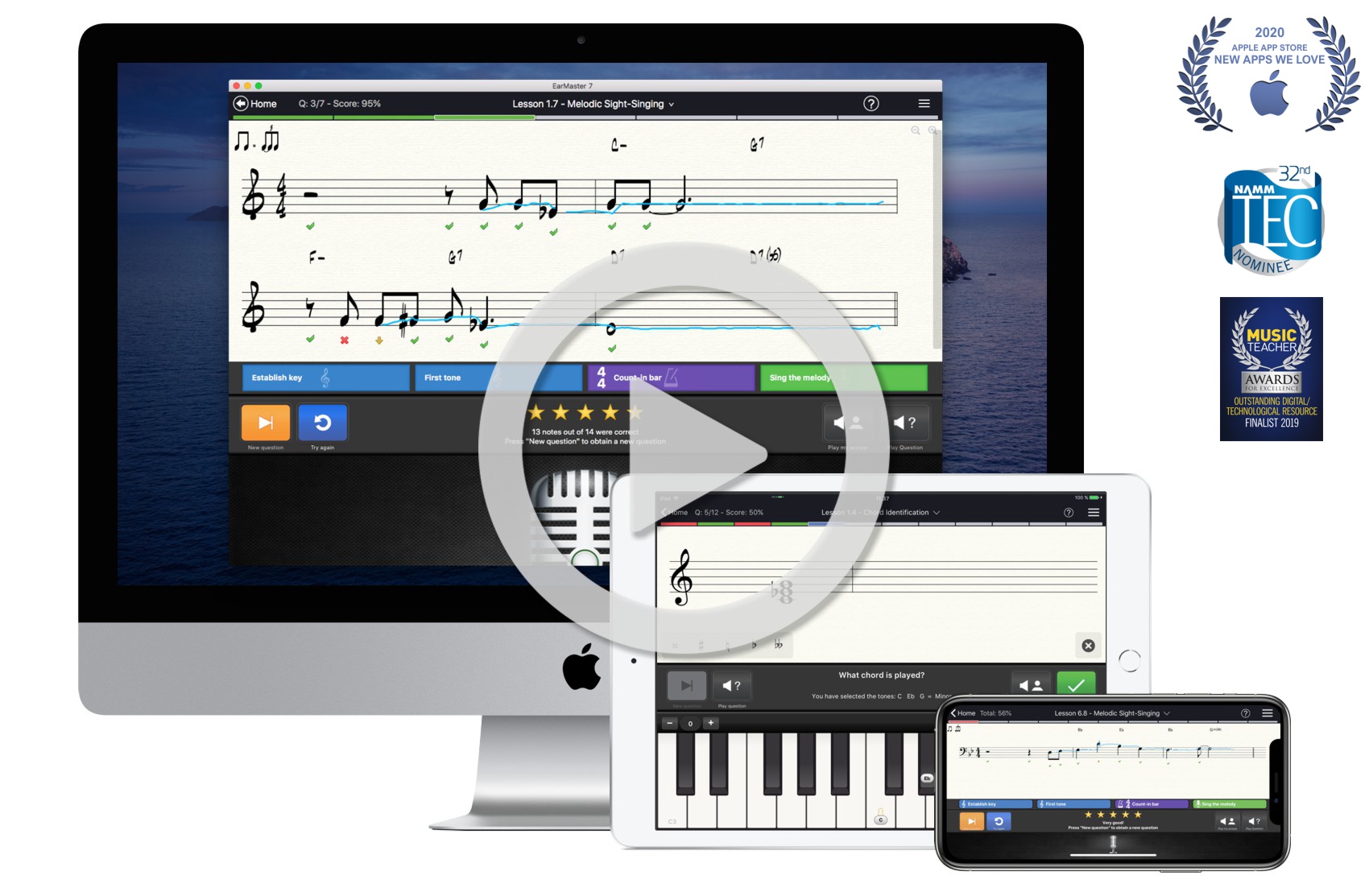 4000 exercises for all levels: intervals, scales, chords, cadences, melodies, rhythm, sight-singing - It's all there!
The perfect choice for music students, hobbyists and professionals who want to improve their musical skills.
Built-in courses for ABRSM Aural and RCM Voice.
Easy to use, motivating, and extremely efficient!
Ready to boost your musical skills? Let's go!
Teaching Music? Discover our all-in-one educational solution EarMaster Cloud
---
Serious about your musical skills? Use the best app to improve them!


When it comes to your musical skills, don't settle. EarMaster is the leading app for ear training, sight-singing practice and rhythm training, used by some of the best music schools, and developed in close partnership with recognized music teachers. It will help you reach your music goals with thousands of motivating and effective exercises courses for all skill levels.
Ear training
EarMaster is not just the best ear training app and software you can get, it's also the most complete! It will train you to hear and recognize melodies, scales, intervals, chords, chord inversions, chord progressions, rhythm and cadences. You will be better at playing by ear, transcribing and improvising in no time!
Sight-Singing
Training your sight-singing skills has never been so fun and effective. With EarMaster, you can sing musical scores and obtain an instant evaluation of your pitch and rhythmic accuracy. You will make much faster progress than by training on your own without any clue whether you're on pitch or not.
Rhythm training
To be a great musician, you need solid rhythmic skills. EarMaster's rhythmic workshops for all levels will help you improve your timing with motivating sight-reading, clap-back, dictation and error-detection exercises. You can perform rhythms by tapping on your device, or by clapping your hands into a microphone.
Monitor your progress
EarMaster offers detailed result monitoring to review your progress lesson by lesson, day after day, and identify your strengths and weaknesses. Should you find areas that demand extra work, you can easily configure your own exercises in order to focus on the intervals, chords, scales or rhythms of your choice.
Sing and clap your answers
In most of the exercises, you can sing or clap your answers. For instance, the Melody Sing-back and Rhythm Clap-back exercises are exciting call-and-response activities where you sing or clap back what you hear. After you have sung or clapped, EarMaster will tell you which notes were on pitch, on time, slightly off, or wrong. Try it, it's really fun!
Functional ear training
Each note has a specific function within a key. To describe that function, you can use numbers (scale degrees), solfege syllables (Do-Re-Mi-Fa-So-La-Ti), or you can use describing terms (Tonic, Supertonic, Mediant, etc.). In EarMaster, you can do functional ear training by using the built-in functional keyboard in combination with the "Play tonic of key" option in Customized Exercise mode.
Cloud sync
With
personal
and
school subscriptions
, you can use EarMaster on any computer, phone or tablet running Windows, macOS, Android or iOS, and sync your results and settings across them. Notice: this is not included with a serial number for PC/Mac or in-app purchases.
Artificial Intelligence
We injected some AI into EarMaster: the app analyzes your performance in real-time and adapts the content and the length of the current exercise accordingly. If you are doing really well, the lesson will stop early, but if you are struggling a bit, it will be extended with additional questions to make sure that you fully grasp the current topic.
Jazz exercises
If you're looking for Jazz ear training, EarMaster is the way to go! Its 9 workshops dedicated to Jazz and Blues cover topics such as «Blues Scales and Blues Songs», «1920's American Swing Hits», «Ballads and Blues in Minor», «Novelty Songs and Rhythms», «Irish Ballads and Folk Music», and «Fun with Irving Berlin», as well as Jazz harmony and Swing rhythm.
For musicians For educators Download
---

Used by leading music schools in most countries
and many more...