Support for EarMaster Cloud Teachers
Connect to the Cloud

Teaching tools overview

Create assignments

Deploy assignments

Teaching Strategies

Review student results
Connect to the Cloud
How to proceed
Your EarMaster Cloud login credentials were sent to you by email when your user account was created by the admin of your school. You will need these credentials to connect EarMaster to the cloud on your PC, Mac or iPad.
Your EarMaster Cloud credentials consist of:
The school ID of your school
Your user name
Your password
iPad (students only)
Download the free EarMaster App from the App Store
Tap the cloud-shaped icon at the top left of the screen, type your EarMaster Cloud user credentials and tap "Log in".
PC/Mac (students and teachers)
Download EarMaster for PC or Mac using the download link located in the email you received from EarMaster Cloud.
Tap the cloud-shaped icon at the top left of the screen, type your EarMaster Cloud user credentials and tap "Log in".
If you are a Teacher, you will have access to 2 tabs at the bottom of the screen:
A Teacher view that gives you access to EarMaster's 4 teaching tools: Student Results, Assignment Manager, Workbook Editor, and Music Library.
A Normal view which shows you the standard home screen of EarMaster, as seen by your students.
Lost your credentials?
Don't worry. Go to this page and type the email address that was used to create your EarMaster Cloud user account. You will then receive an email with new credentials.
Overview of the Teaching Tools
When you log into EarMaster on PC/Mac as a teacher, you are met by 4 teaching tools:

Students Results - the results of your students
Assignment Manager - the place where you can assign workbooks (formerly called "Courses" in EarMaster 6) to your classes and students
Workbook Editor - where you can create assignments and save them on your computer.
Music Library - where you can have a complete overview of all items available for your lessons, such as chords, scales, melodies, etc.
HOW TO PROCEED
Create an assignment with the Workbook Editor and save it on your computer
Open the Assignment Manager, select a class or a single user in the left column, and click on "Add Assignment" to send your assignment to that class or user.
When students have completed your lessons, you can check their results in the Student Results area.
Check out the other tabs of this support sections to obtain more details on each of the steps described above.
How to create assignments
Open the Workbook Editor
You can create assignments for your students in the Workbook Editor, which is available from the home screen of EarMaster when you are logged in with a Teacher account.
Structure of a Workbook
An EarMaster workbook is structured around 2 levels: Modules and Lessons.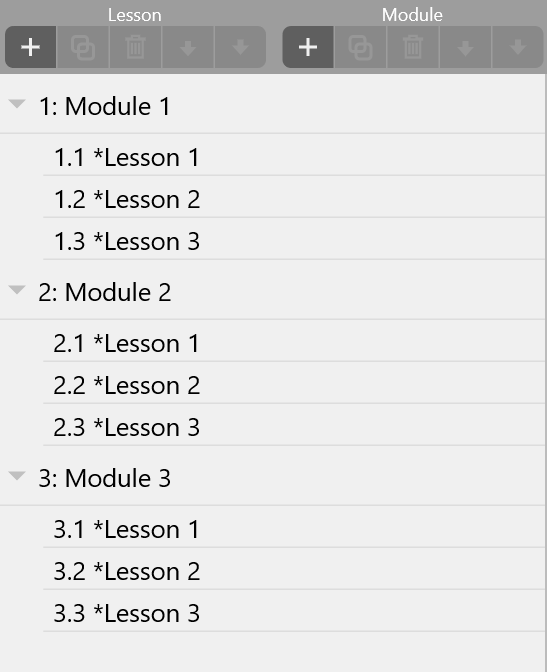 A module is simply a group of lessons, and the module title is the general heading for these lessons. When structuring your workbook, you can take advantage of the modules to organize your lessons according to a theme, a level of difficulty, curriculum steps and more.
Lessons are the actual training material of your course. A lesson can be either a pure exercise, or explanations with audio and visual examples, or a mix of both.
A common way to structure a course is to include in each module a group of lessons that introduces variations on the same theme. It could be for instance the same intervals, melodies, or chords executed differently, played in a different key or at a different tempo, etc. The passing threshold would be set very low (even as low as 0%) so that the students may obtain some variation during the training session, but the last lesson would be a test with a higher passing threshold. For that last 'test' lesson, you could set the setting If failed, go to so as to have the student retake the whole module in case he failed it.
Name and describe the Workbook
You can name the workbook by clicking on "Unnamed Workbook" at the top of the screen.

Add modules
To add a module, click on the + icon in the module toolbar.
Add lessons
To add a lesson, click on the + icon is the lesson toolbar. Then select an activity type in the Exercise Setup part of the screen, below the description of the lesson.
Depending on which activity you have selected, you will find different sets of options to configure your lesson.
Import lessons from existing workbooks
Besides configuring your lessons from scratch, you can also import lessons from existing workbooks. To do that, open the Tools menu and click on Import lessons from workbook. If the workbook you are looking for isn't listed, you can click on browse to locate a workbook on your computer.

Once you have selected the workbook you want to import from, you will see a list of all the modules and lessons it includes (and the workshops in the case of EarMaster's General and Jazz workshops). Select the content you need, and click OK to add the selected mdodule/lessons/workshops to your custom workshop.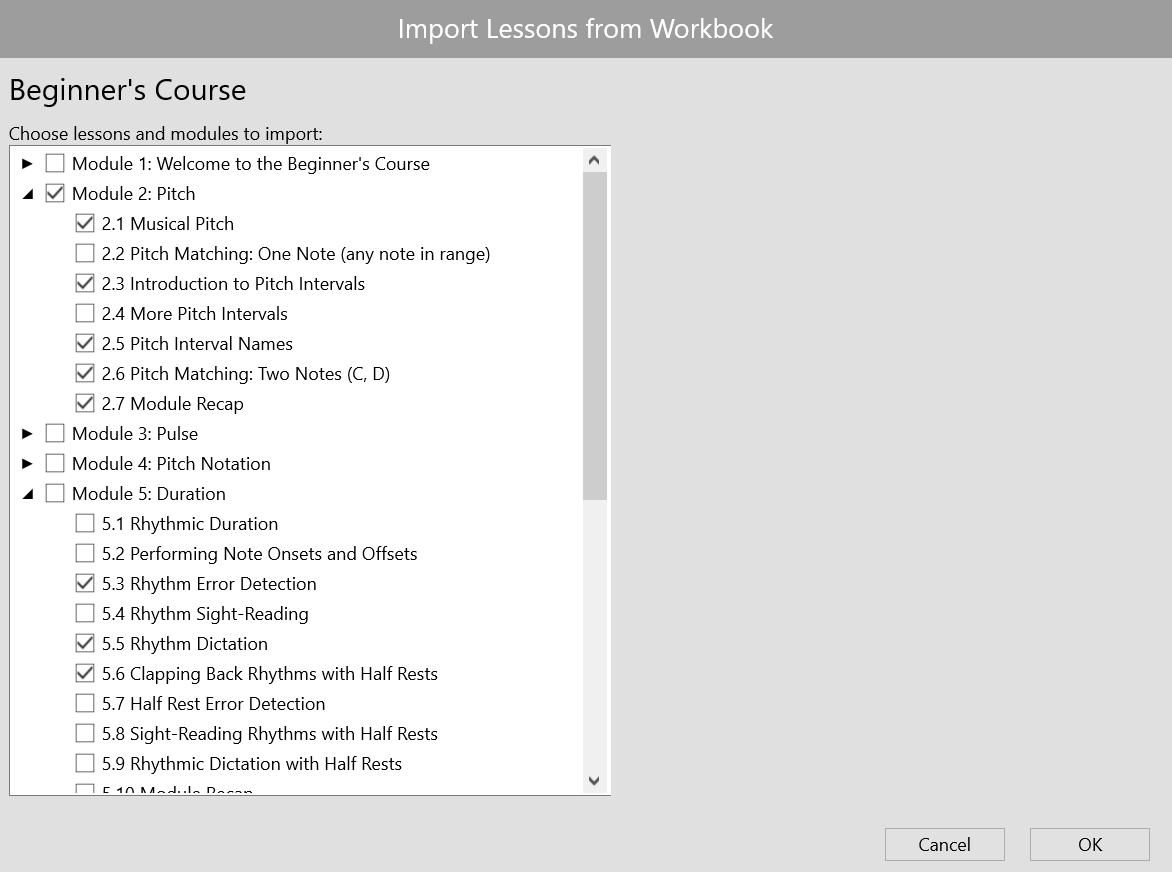 Save your Workbook
To save your Workbook, go to File-->Save Workbook or Save Workbook As…
Workbooks can only be saved locally on your computer. They will be uploaded to the Cloud when you assign them to students.
Notice that Workbooks located in the cloud can't be modified. You can only modify your local copy of the workbook and then upload it as a new separate assignment. If the assignment you have modified is already assigned to students. You must unassign it before uploading its modified version to avoid having students use different versions of your assignment. The modified assignment will be treated as a new assignment in the Student Results for the simple reason that it does not have the exact same content and structure as the old one..
Assign your Workbook to students
You can assign your Workbooks to whole classes as Class Assignments, or to individual students as Personal Assignments via the Assignment Manager. For more details on this, please check the Deploy Assignments tab.
How to Deploy Assignments
In EarMaster Cloud, an assignment is a Workbook created with the Workbook Editor and sent to a class or individual students via the Assignment Manager.

The Assignment Manager
To deploy your assignments, open the Assignment Manager from the home screen of EarMaster on PC/Mac. The Assignment Manager is only available when you are using EarMaster with a Teacher account.
Currently, EarMaster Cloud supports only one class assignment per class and one personal assignment per student at a time.
Assign a Workbook to a Class
Select a class in the left column, and click on Add assignment. The loaded workbook will become that class' current assignment.

All the students enrolled in that class will now see a new entry titled [Class name] Assignments in the list of training modes when they open EarMaster. When clicking on that new entry, they will be able to see and use their current assignment.
Replace the current assignment by a new assignment
When you would like your students to use a new assignment, you can remove the current assignment for the selected class by clicking on the cross-shaped icon next to the assingment's title, and then replace it by a new one by clicking on Add assignment.

Your students will see the new assignment the next time they start EarMaster.
Remove an assignment
Removing an assignment for a student or a class via the Assignment Manager will make it disappear from the home screens of the students. To remove an assignment, click on the cross-shaped icon to the right of the assignment's title, as illustrated in the screenshot above.
Multiple assignments to a Class
Currently, EarMaster only supports one assignment at a time for a class, and it is not yet possible to queue multiple assignments. But there is a workaround that allows you to assign multiple workbooks to a group of students:
If you want to add 3 assignments simultaneously to your students, create 3 classes in EarMaster Cloud, and then add the same students to all 3 classes. Now you can make one assignment for each of your classes, and since each student is a member of all 3 classes, the assignments will show up as 3 different entries in the home screen of EarMaster.
Disadvantage: if you already have many classes in your school account, then multiplying them with many assignments will give you a large number of classes.
You can name those classes in several ways, depending on your teaching strategy:
- Week 1
- Week 2
- Week 3
or
- Harmony
- Sight-Singing
- Rhythm
Teaching Strategies
There are several possible teaching strategies to incorporate EarMaster in your courses. We will list some of them below:
One workbook per week/month/trimester/semester
Assign one workbook to each class every week, month, trimester or semester. You can prepare the next assignment in advance by working on a new workbook saved locally, or by adding new lessons to a Master Workbook (see further down).
As soon as students are supposed to switch to the next workbook, change the current assignment in EarMaster's Assignment Manager, and the software will load the new assignment in the student versions automatically.
One workbook per discipline
In the web Admin interface (https://cloud.earmaster.com), create one class per specialty (for example: ear training, harmony, sight-singing, etc.). Then add all your students to each of those classes and assign a specialized workbook per class. That way, your students can work with multiple workbooks at the same time.
Notice that this solution works only for smaller accounts. If you have multiple courses with many students, this solution might incur too much extra work.
One 'master workbook' to rule them all
In order to compile a whole year's worth of exercises into a single workbook, what you can do is keep a 'master workbook' saved locally on your computer, and add lessons to it as the year passes. Every time you want to send an assignment to your students, you can create a smaller workbook and import lessons or modules from that 'master workbook' using the Tools-->Import lessons from workbook option in the Workbook Editor.
That way, when the year has passed, you will have a all the assignments from the passed year nicely gathered into a single workbook, ready to be reused next year.
Reviewing Student Results
In the Student Results section of EarMaster, you can easily review the results obtained by your students when using your assignments or the built-in courses of EarMaster. Each time a student completes a lesson, the results are stored online in your EarMaster Cloud account and you can view them immediately.
Simply choose
The group of students to show (i.e. the class), on the left side of the toolbar.

The date range to show

The assignment to show (i.e. the Workbook), at the right side of the toolbar.

When you have done that, all statistics available for the selected assignment, course or workbook are shown next to each student. To go into more detail, navigate to specific modules or even a specific lesson to compare the results of your students. You can also double-click on a student's name to see a detailed list of scores for each of his individual attempts.
Instead of choosing a specific assignment in the right part of the toolbar, you can also choose "All Results". That option will show the total training time and statistics for everything the student has done in EarMaster (except for the Customized Exercise mode, which is the student's private space and isn't shared on the cloud).
For a description of each column and other screen elements, please click the circled ? button at the top right corner.
Notice: Results obtained by the students in the Customized Exercise training mode are not uploaded to the Cloud. They are a free space for students to practice on their own without being monitored.