The perfect solution for music schools, universities and conservatories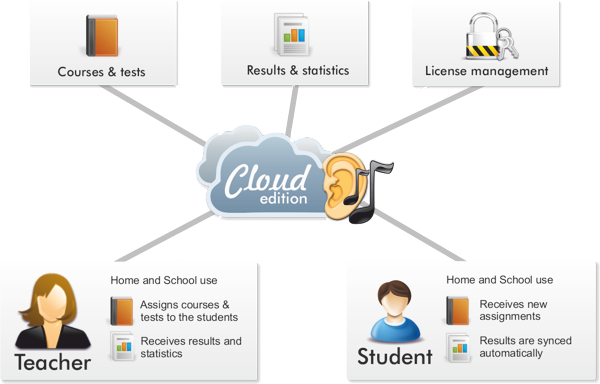 What's a "credit"?
EarMaster Cloud credits are prepaid tokens that you add to the account of a school. As long as there are credits on the account of your school, you can have as many active users as you want.
Each day, the system looks at how many users you currently have, and then debits the corresponding fraction of credits. In practice, this means that you are completely free to add or remove users anytime you want, you won't waste a single day of use. WHen your account runs out of credits, you can resume it by adding more credits form the dashboard of your school account.
1 credit will last 1 full year (365 days) with only 1 user on your account.
What's included?
Includes EarMaster Pro 7, EarMaster Teacher 6.2 and EarMaster for iPad for the students and teachers of your school.
NEW: The new course 'RCM Voice - Levels 1 to 6' is also included at no extra cost (PC & Mac only).
All assignments, results and user profiles are synced automatically via the secure server of EarMaster Cloud.
How does it work?
EarMaster Cloud can be installed on as many Windows PC, Mac or iPad as you need, in your lab or at home. Users can login on any computer or iPad with their EarMaster Cloud credentials.
How does the license work?
EarMaster Cloud is sold as packs of pre-paid credits. Credits are added to your EarMaster Cloud account and then debited on a daily basis. With one user (student or teacher) on your account, 1 credit will be used in 365 days (1 year).
You are completely free to add or remove as many users as you need any time you want. You won't waste a single day of use. Any changes you make to the number of users on your account will simply update the rate at which the credits will be debited.
Besides all that, you also get:
Free updates and upgrades of the Windows, Mac and iPad applications
Free and unlimited e-mail support
No recurring fee: order new credits when you need more.
Included languages (* = desktop version only): English, German, French, Italian, Spanish, Danish, Portuguese and more to come.
For Windows 10, 8, 7, Vista, XP, macOS 10.6 or newer and iPad 2 or newer running iOS 9 or newer.
Notice: It is possible to use EarMaster Cloud offline for short period of time when no internet connection is available. The sync'ing of results and assignments will be performed as soon as EarMaster can access an internet connection again.