Ear Training for sound engineers
Stop guessing, start mixing like the pros.
TrainYourEars EQ Edition is a new type of ear training program for Mac and PC. While EarMaster helps you train yours ears to recognize pitches and rhythms, TrainYourEars was designed to help you understand equalizers and frequencies.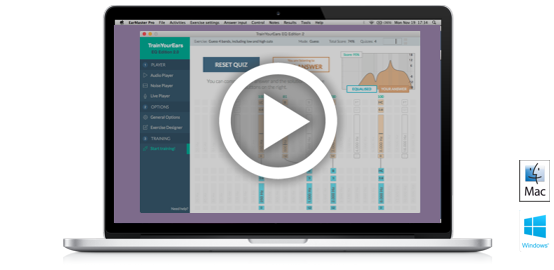 [ Click here to watch the video ]
Why use TrainYourEars?
Many sound engineers have a tendency to use equalizers with their eyes instead of using their ears. TrainYourEars is a tool that will put the focus back on the music and help you make the right choices in your mixes based on what you actually hear.
How does it work?
The software drills you by applying EQ settings to songs that you have loaded from your music library, or with white or pink noise. You then have to guess which frequency was boosted or cut. Finally, your answer will be evaluated, and you will be able to compare it with the correct answer.
You will quickly develop a frequency memory that will enable you to connect the sound you want to achieve with the EQ parameters you need to dial in in order to shape it.
What is new in TrainYourEars 2.0?
In this new version, you are not just picking a frequency from a list. Instead of guessing, you must make corrections in real-time, while you hear the results. Exactly like you would when sitting at your mixing desk!
The person who suggested this method to the TrainYourEars team in the first place was mastering legend Bob Katz. He tested it, loved it, so here it is for all of you to enjoy!
Besides all that, this new version also offers:
- a brand new, modern and clean interface
- a new assisted training screen
- a new exercise designer
- it supports other languages
- and many other features
System requirements
Mac OSX
Mac Intel machine running OS X 10.5 or later.
1Gb of RAM.
800×600 display resolution.
PC (Windows)
Windows XP, Vista, 7, 8, 8.1 or 10.
1Gb of RAM.
Pentium 4, Celeron or higher processor.
800×600 display resolution.
An ASIO-compatible sound card recommended for optimum audio performance and low latency.
These are only minimum requirements. Multicore processor and 2Gb of RAM are highly recommended.
Notice: This is a download version delivered by e-mail.