EarMaster for iPad - now available!
It's finally here! EarMaster is now also available on iPad with even more features and lessons. We put a lot of work into it and are very proud of the result. We hope you'll love it too!
Meet EarMaster for iPad
The app comes with a selection of free content: Customized Intervals Identification andCustomized Chord Identification, as well as 4 modules from the brand new Beginners Course. You can then add more workshops and activities as you go with in-app purchases.
Get it now on your iPad and start training your ear: https://t.co/oToPEBMYum.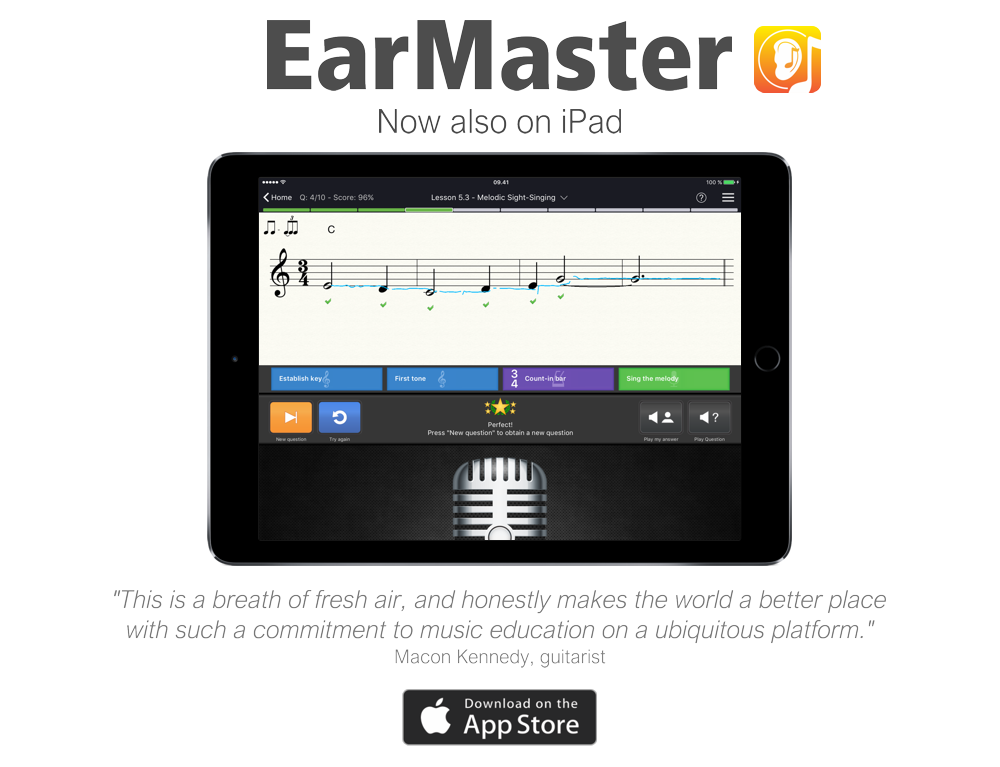 How it works
Languages
EarMaster for iPad is already available in English, Spanish, French, German and Chinese (Simplified), and more languages are on their way. If you are interested in helping us translate EarMaster, contact us: JLIB_HTML_CLOAKING.
Other platforms (Android, iPhone, Windows tablets)?
I guess many of you are wondering if there will be a version for Android, iPhone or other platforms. Yes! We will start looking into developing EarMaster for more platforms as soon as possible.
Spread the word
If you like the iPad version, don't forget to rate the app on the app store or write a review. It takes only a minute, but it will help other musicians that are serious about their musical skills find a proper training tool.
Frequently asked questions
Q: There are already so many ear training apps out there. Why should I use for EarMaster?
There are indeed quite a few ear training apps in the App Store, and some are quite good. There would be no point for us to release yet another ear training quizz app, that area is well covered. Instead, we have chosen to focus on extreme interactivity like in the desktop version of EarMaster: Question engine with AI (adapts content of lessons based on user performance), Vocal input, MIDI controller support, Live rhythm tapping, adn a lot more.
Q: If I buy EarMaster for Windows and Mac OS X, will I be able to get the iPad version for free?
No, unfortunately. EarMaster for iPad will be sold exclusively through the App Store just like any other iPad app, which means that it is technically not possible for us to grant free licenses to existing users.